American Holidays Cruise Manager Astrid Bell was delighted to be invited onto Royal Caribbean's Anthem of the Seas for the 'Return to the Seas' cruise departing from Southampton and sailing around the British Isles in July 2021. Here she has shared with us just what its like onboard this fantastic ship and what you can expect from a cruise holiday during Covid-19.
Note the below details Astrid's experience on this particular ship on this particular sailing and experiences may differ depending on dates and destinations etc.
Things you Need to do Prior to Boarding the Cruise Ship
Before setting off I made sure I had downloaded the RCL app and this is something I advise all passengers to do in advance of departure. In the app I could do my online check-in and receive my digital Set Sail Pass (similar to the boarding pass you get when you check in online for a flight). It is advised that you do this in advance to make the whole boarding experience much faster. I was then also allocated a check in time at the port.
Health & Safety Protocols – Before Departure
At this time there are some additional checks required due to Covid so proof of vaccination, proof of negative PCR test and a completed the health questionnaire are all required and can be uploaded into the app. Because I did all this in advance, when I arrived at the port the check in and boarding process was extremely well organised so I was on board in no time at all.
Accommodation onboard Anthem of the Seas

We boarded Anthem of the Seas and made our way to our stateroom. We had been assigned an absolutely stunning Sky Class Grand Suite. I have been on many cruise ships over the years and can easily say this was one of the best suites I have ever stayed in, we were truly blown away by how luxurious it was. The bedroom had lovely big beds and pillows that you could just melt into, luxury bathrobes and plenty of room to hang up your clothes and store your suitcase. There was a separate living area, in which we had been left a complimentary welcome fruit basket and as we were two sisters travelling together we were delighted to see there was a spacious bathroom, with two sinks and mirrors for getting ready, along with a separate vanity area! The room also had a fantastic balcony were we could sit out and enjoy the sun.
Being a suite guest comes with plenty of perks. You can avail of continental breakfast in the Suite Lounge or the Coastal Kitchen (both are exclusive for use by suite guests), cocktail hour with unlimited beverages from 5-8 in the Suite Lounge, in-suite dining room service and access to an exclusive suite deck area.
Things to do Onboard Anthem of the Seas
I was so excited to be back on a cruise ship that once we were able to tear ourselves away from our fabulous suite we were eager to get exploring! We were sailing in July 2021 when some covid restrictions were still in place, so when you are walking around the ship you must have your mask on at all times when you are indoors but you can take it off once you are seated anywhere or if you are out on deck. To be honest, it's what we are all used to now so it didn't feel in any way strange or uncomfortable!
Wandering around the ship over the few days we were onboard we took in some of the fantastic activities available. Here is where the app comes in handy again, with ship maps, activity itineraries and options to book into various onboard experiences. We straight away booked ourselves into the Northstar (additional fee applies), a glass pod that elevates you high into the air above the ship for unrivalled 360 degree views of the surrounding landscapes. I would recommend anyone sailing on Anthem of the Seas to book it at some stage during your cruise, it truly is an unmissable experience.
During our time onboard we also checked out the iFly skydiving simulator, the Flowrider surf simulator, the rock climbing wall, indulged in a spot of shopping (there are always amazing bargains to be had on a cruise ship on designer items), had a dip in the solarium (the indoor pool),had a quick look in the spa (no time for treatments this time unfortunately but it looked amazing) and just enjoyed checking out all the quirky things that can be found onboard Anthem of the Seas.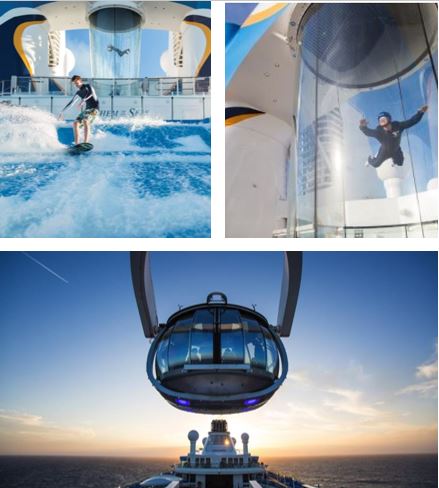 We caught two shows during our cruise. The first night we went to Spectra's Cabaret, I was so excited to see it and knew my sister would love it too. Described as a 'mind-bending fusion of live performances and experiential cinema blending pop culture anthems, dynamic movement and state of the art technology' we were both blown away by how spectacular a show it was. We both came away from it knowing we had seen something really special!
The second night we wandered into one of my favourite spots – the Music Hall. One of the best places onboard for live music, where some of the industry's best cover bands rock out every night, which as a real rock chick, is my idea of heaven! That got us right in the mood for what was up next as we had booked in to see We Will Rock You, the award winning West End Show. A must see for any Queen fans, we had the time of our lives singing along to all the classic hits!
Dining Onboard Anthem of the Seas
I always make a point of getting a nice breakfast onboard a cruise to set myself up nicely for what I know will be a funfilled day ahead. Both mornings we were onboard we chose to eat in the Coastal Kitchen where I tucked into my favourite – eggs benedict – but there are plenty of breakfast options onboard to chose from. Casual dining is available in the Windjammer Café or the Main Dining Room, where you can still stroll around a breakfast buffet and pick out what you want, with the difference now being that the servers will plate it for you and serve it to you. For something nice and light you could head to the Café Promenade or the Café at Two70 or if a nice pastry and coffee later in the morning is your perfect breakfast then La Patisserie is the spot for you!
All these restaurants/café's also serve lunch later in the day. I usually like to go to the Windjammer for lunch due to the huge variety of options available.
Our first night we decided to have dinner in the Coastal Kitchen. It is highly advisable to pre-book all your meals in the restaurants on the app to allow for reduced capacity. You'll also need to use the app to view the menus as they aren't handing out physical menus anymore due to Covid.
The Coastal Kitchen is an elegant and trendy intimate restaurant exclusively available to suite guests. The food was simply exquisite! It was beautifully presented and absolutely delicious. We both left there feeling very satisfied, declaring it to be one of the best meals we had ever had! I must give a special mention to the staff in the Coastal Kitchen, and indeed in all the restaurants we ate in. They were so attentive, very helpful with explaining the menu etc and they make sure to work the meal around your plans, so if you want a long leisurely dinner they will accommodate that or if you are rushing off to a show after dinner, they will make sure everything comes out in a timely manner.
That evening we tried out two different bars. First up was The Bionic Bar, where 'mixology meets technology'. Here you can select a cocktail from a menu on a tablet or else create your own and then sit back and watch as two robotic arms make your cocktail for you, it was a real novelty! Later in the evening we decided to go to Bolero's Bar for a nightcap. A Latin-themed club that serves up all your favourite cocktails to the sound of a six piece band playing salsa, merengue and samba! I have been here before on previous cruises and is one of my favourite bars on the ship and the dancers on stage put on a fantastic show as you relax and sip on your cocktail.
The second night we had trouble choosing between the fantastic restaurants onboard and in the end we went to Jamie's Italian, and boy were we glad we did – for me it was my favourite experience of all our time on Anthem of the Seas. We indulged in a 5 course meal, and everything that came out we were simply delighted with. Particular highlights included the famous Jamie's Plank charcuterie board and the most delicious, creamy pasta I have ever tasted! Again, I must give full credit to the staff in the restaurant to whom it was clearly really important we had the full Jamie's Experience and made sure to explain the menu to us etc. We were so full leaving, it was great to have the option to just go back to the Suite Lounge for a quiet nightcap before heading back to our fabulous suite to fall fast asleep with our bellies full!
Experiencing a Cruise Holiday During Covid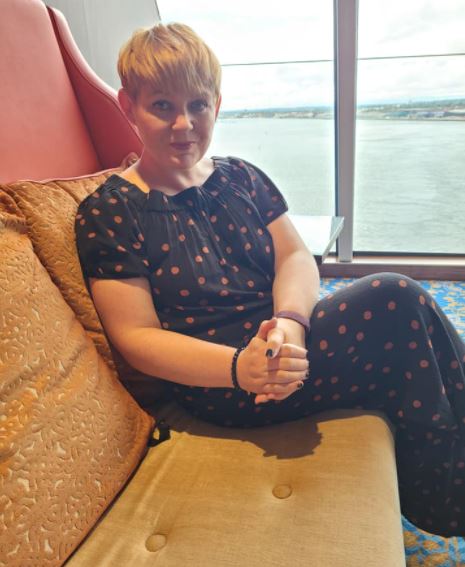 This was my first time back on a cruise ship since the outbreak of Covid-19 and boy had I missed it! I don't think I even realised how much I missed it until I stepped back onboard! I could tell as well how much the staff onboard had missed it too! I want to mention them again as it was so clear that they were all so happy to be back at sea and every one of them went out of their way to make us feel welcome and were always on hand for anything we needed.
As the American Holidays Cruise Manager, I have been on plenty of cruises over the years and I was so happy to see that even with Covid-19 the cruise experience hasn't really changed at all, but here is an idea what to expect when going on a cruise holiday now.
• It more important than ever to download the RCL app prior to departing for your cruise. This is used for online check in, to book into restaurants and activities, to view restaurant menus etc. Be mindful about booking as numbers might be lower for certain things to allow for social distancing. Make sure you keep your phone charged as you'll be using it lots!
• Facemasks must be worn onboard the ship with the exception of when you are sitting down somewhere (i.e. at your table during a meal, or in your seat for a show), or when you are out on deck and social distancing is possible. While this is new for a cruise ship experience, it certainly isn't new in our way of lives now so it just felt totally normal!
• Certain activities are slightly curtailed, numbers reduced etc so make sure to keep checking the app to see what can or can't be accessed and what needs to be pre-booked.
• Don't' worry, the famous cruise buffet is still a thing! You can still go up and pick your food from the buffet but now a member of staff will plate it up for you and serve it to you.
• One thing I must admit I did miss is that there is no dancing allowed in the bars etc, nor can you go to the bar, it is very much a case of you are shown to your seat and table service is provided. This also applies to attending a show.
• On this particular cruise every guest had to be double vaccinated and provide a negative PCR test. Requirements will change as time goes on and depending on destination so make sure you are clear on what you need to do prior to boarding in terms of tests/providing proof of vaccination etc.
We truly had a fantastic few days onboard Anthem of the Seas. It was just amazing to be back on a cruise ship, to be able to eat in nice restaurants, have the opportunity to get dressed up again every night and to partake in lots of fun activities! I've returned to the office with a head full of ideas of a cruise holiday for my 50th birthday next year and after our few days of luxury I think its safe I'm fully converted to being a suite customer now!
Are you longing to get back on a cruise ship? Or eager to give a cruise holiday a try for the first time? Our travel experts all have first hand experience of what it's like to cruise onboard a Royal Caribbean Cruise and are ready to talk when you are! Check out our great special offers on cruise holidays and give us a call today to start planning your dream trip!