I was delighted to join a sailing on Princess Cruise's brand new Ocean Medallion Class ship Sky Princess last month. It was my first time on a Princess cruise so as cruise product manager for American Holidays, I am always excited for new cruise experiences!
Prior to boarding we downloaded the 'Ocean Ready' app which made checking in seamless. On this app you will see all your booking documentation, see all the activities happening on the ship, you can book shore excursions, locate your ship mates, order drinks and lots more! You'll get given your Ocean Medallion when you board which is linked to your app and should be worn throughout your cruise (don't worry its waterproof so you can still jump in the pool!). I was worried about having to rely on that and the app so much on board but I found I got the hang of it really quickly.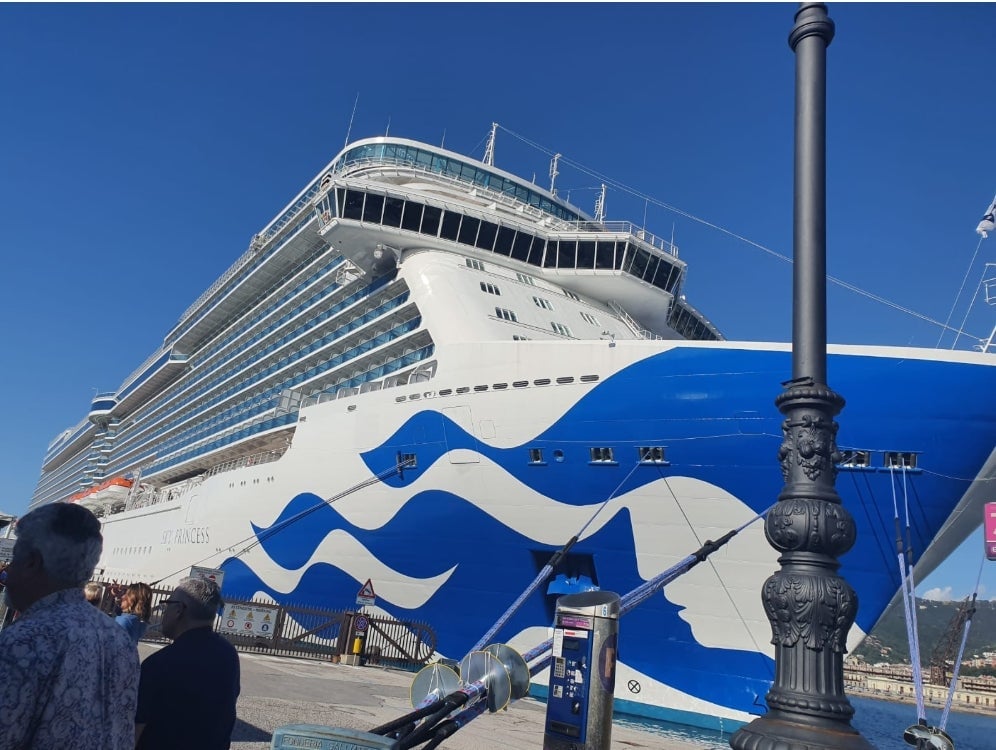 We made our way to our stateroom, which was easily found since we were wearing our Ocean Medallions. There are interactive portal screens dotted around the ship that you just touch your Medallion off and it will direct you to your room (or anywhere else on the ship you want to find).
As you approach your stateroom wearing your Medallion, your door will automatically unlock for you. There is a range of stateroom types available on Sky Princess. We stayed in a balcony stateroom, a reasonably sized room for two adults with great storage for you to pack away your suitcases in and plenty of wardrobe and drawer space. The balcony was also reasonably sized, I would maybe recommend upgrading to a deluxe balcony room for a bit more space in the room and a bigger balcony.
Once we got settled in we headed straight to the top deck to get a bite to eat. We tried out the World Fresh Marketplace, a buffet style restaurant with a huge selection of food stations. We ate there a few times during our cruise, it has great variety of freshly cooked food for breakfast and lunch options. All your food is included in your cruise fare, the only exception is in the speciality restaurants or certain premium items on some menus.

I have to say I was really impressed with food on board Sky Princess. The Salty Dog Grill, out at the pool area is perfect for days you feel like burgers and fries or Slice has some pretty amazing pizza. The International Café was another favourite of ours. Located by the Piazza, the lively heart of the ship, I just found it always had just the right thing for whatever you were in the mood for, whether that be to grab a coffee and pastry in the morning, a sweet treat for your afternoon cup of tea or your midnight feed after dancing the night away!
In the evenings we ate in the main dining room and the food was just outstanding (my recommendation is to try the Moroccan spiced chicken and crepes – divine!) The food is accompanied by beautiful wines and the deserts are just heavenly! A nice touch is that they change up the menu every night so you could easily eat there every night and sometimes they include menu items that feature the local cuisine of where you are at that time. Your Ocean Medallion is in full swing as you order your drinks with a simple tap.
One night as a treat we went to the Crown Grill, the signature steak house. This is a speciality dining restaurant so there is a charge, but at $29, it's well worth it! The waiters are really knowledgeable on the different types of steak and will advise you on the best one to order for your taste. Once you've selected your steak they bring you out a range of flavoured gourmet salts, Hawaiian black salt (my favourite), smoked applewood salt and Himalayan pink salt. I absolutely loved our meal here and would recommend anyone going on the ship to include a night here as a nice treat.
Check out the Piazza, the heart of the ship. Every night we were drawn here as there is always so much going on. Surrounded by bars, cafes and with plenty of entertainment on show, it really is the place to be! A real highlight was the Captain's Champagne Waterfall at the Captains Welcome Aboard Party. Sip on cocktails and bubbly as you have the chance to meet the captain and get your picture with him, or a picture of yourself pouring the champagne waterfall – that's always a hit!

My absolute favourite bar on the ship was Take Five 'The Only Jazz Theatre at Sea'. Go back in time as you sit at the bar watching some fantastic jazz musicians, while sipping on delicious themed cocktails such as The Ella Fitzgerald, or Jazz Riff in an old style setting. The Ocean Medallion is really great when ordering drinks. For example if you order a G&T and ask for it with certain fruits, that gets recorded and the next time you order you won't have to specify your preference again, your drink will appear before you exactly how you like it!

Master Mixologist Rob Floyd has refreshed the cocktail menu across the entire fleet and if you're lucky he might just be on your sailing. You can join a cocktail masterclass with him or one of his colleagues or you might even see him popping up behind the bar at some stage making you a fantastic hand crafted cocktail.

One of my tips for another nice spot on the ship to sip on a drink is the Wakeview pool and bar. It's a nice chilled out area at the back of the ship to sit back and relax gazing out at spectacular views as you sail away. On sail away days complimentary tapas are provided with your drinks which is a nice treat.

There's two big pools in the main pool area with a giant LED movie screen showing movies or local sporting events throughout the day (check your Ocean Ready app for the movie times), it's a real area on the ship were people gather. Very relaxed during the day with nice areas to lounge and catch some sun (although there's plenty of shade too). Two bars service the area and don't forget to order to drink straight to your sun lounger with your Ocean Ready app – they'll find you via your Ocean Medallion!
The Sanctuary private retreat area for adults, with eight private cabanas for rent (fees apply) or other sun loungers to relax on is a great spot for some ultimate relaxation. Get up there early as it's a popular spot where you can even indulge in an al fresco massage! It's located right above the Lotus Spa, named 'The Best Spa on a Cruise Ship'. Book in for a day of luxury using their dreamy thermal suites or treat yourself to a treatment – go on you deserve it!
If like me you like to stay active on a cruise then you are in for a treat with the gym on board Sky Princess. It's really spacious with all new high tech equipment. They offer classes such as Spin, TRX etc., use your Ocean Ready app to check the times, no need to book, just turn up. And of course your run on the treadmill is certainly a lot easier when you are looking out over a heavenly sea view.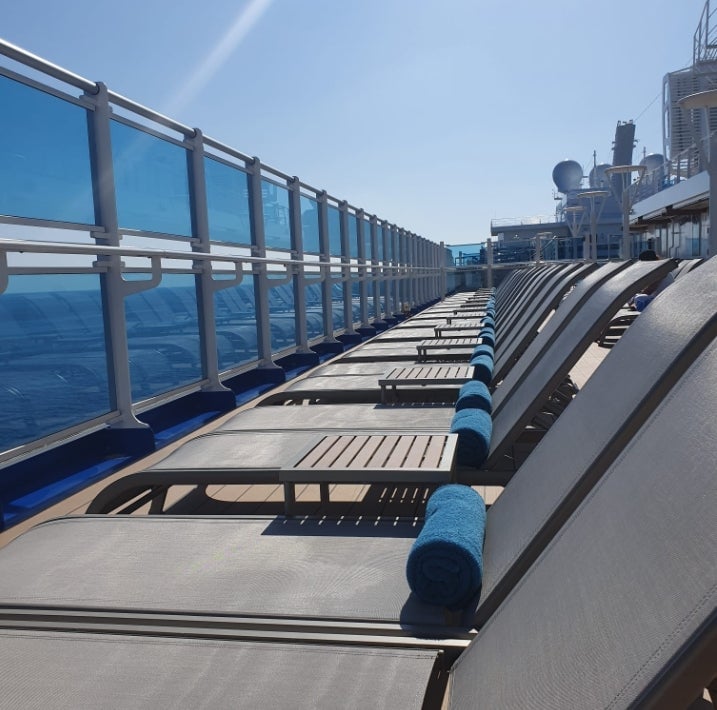 My overall thoughts about travelling on board Sky Princess was that it really brought me back to traditional cruising. It was all about fantastic food, dazzling entertainment, ultimate relaxation and great ports of call. It's an easy ship to walk around, it's a really relaxed environment. The staff were really friendly and so welcoming, and for me I really loved the Piazza and being in the thick of it every night, meeting new people etc.
It's a really easy ship to be on thanks to the Ocean Medallion and Ocean Ready app. Sit back and relax as your drinks and food come to you via the app, plan your whole day on the app, once you have your app and your Medallion, everything comes to you no matter where you are.
Top tip – make sure your phone is charged!
Sky Princess will be sailing the Caribbean from late 2019. Visit our Princess Cruises page to check out our Sky Princess cruise holiday offers or contact our travel experts to find the perfect cruise holiday to you.