An Alaskan cruise is a dream holiday possibility for many travellers, with magnificent ships visiting the region during the summer months. A trip to Alaska can take you from the depths of the wilderness to the peaks of mammoth glaciers and from surprisingly metropolitan cities to quirky small towns. To help you to make the most of your trip our travel expert Ashling shares her top tips for an Alaska cruise!

When is the best time to go on an Alaskan cruise?
The Alaskan cruise season runs from May – September every year. While you might find prices are slightly lower in the shoulder months of May and September, you can enjoy better weather during the summer months and in some instances have a better chance of spotting certain wildlife that you might be keen to see. July is generally considered to be the best time to go on an Alaskan cruise as you are likely to get the best weather and also the best wildlife sightings.
What should I pack for an Alaskan cruise?
The temperature is often pleasant during the Alaska cruise season, but it can still switch drastically from day to evening, or from port to cruising. Therefore, packing layers is essential for this voyage.
If you plan to do outdoor activities, it is not the time to be fashionable! Make sure you bring the appropriate clothing with you so that you stay comfortable, dry, and warm, and can fully enjoy the extraordinary shore excursions in Alaska. Such clothing includes water resistant hiking shoes, rain ponchos or jackets, windbreakers, and warm layers. Rain gear is essential as it is more than likely you'll experience at least a shower or two!
While we are all used now to using our phones to take all our pictures, it's worth considering bringing a proper camera that will really allow you to zoom in on the fantastic wildlife and nature you are going to witness. A go-pro is also a really fun accessory to capture those thrills racing across the snow on your on-shore excursions!
Remember, not all your time will be spent out and about exploring the wilds of Alaska, so be sure to pack some nice clothes for evening dinners onboard your ship, and comfortable clothes for days spent cruising. You can also avail of laundry services onboard your ship to help cut down how much you need to bring.

Splash out on a balcony room!
Everyone I know agrees that the time to upgrade to a balcony room is on an Alaskan cruise holiday – you won't regret it! On your holiday to Alaska you will be sailing past some of the most spectacular, unspoiled scenery that can be found anywhere on the planet. Imagine waking up in the morning and being able to step out onto your balcony and relax as you drift past glaciers, ice capped mountains, abundant wildlife and icy blue waters. Most itineraries will include at least one day cruising where you don't stop at any ports, especially on the days you sail past the most impressive glaciers so it's fantastic to be able to enjoy these spectacular moments from the privacy of your own balcony!
You can of course spend time walking around the ship to view the beautiful surroundings, but there is nothing like waking up and going to sleep with the breath-taking grandeur of Alaska outside your door. You can't beat seeing the magnificence of Hubbard Glacier and Margerie Glacier, some of the largest glaciers in the Northern Hemisphere, while on your own private balcony. It is also a much more comfortable way to watch for calving (the thunderous process of large chunks of glaciers falling off into the ocean). Trust me; a balcony cabin is a must!

Book your Alaskan on-shore excursions in advance
An Alaskan cruise holiday is not the type of cruise where you should stay on the ship in any port – there are so many exciting excursions to experience. Waiting to book these activities onboard the ship, or delaying until the actual port of call, could be a risk as they do tend to fill up quickly so my top tip for an Alaskan cruise is to take the time to do some research before you go and make sure you book the tours and activities you won't want to miss. Many of these activities are real once in a lifetime opportunities so make the most of it!
The Alaskan landscape is as varied as it is vast so there are so many different excursions you can enjoy. From dog sledding over snow covered glaciers, to gliding over rainforests on ziplining adventures, from wilderness river wildlife safaris to glacier trekking and from scenic rail journeys in the Yukon to fishing expeditions. No matter what you chose, you are in for the trip of a lifetime!

Spot the wildlife!
One of the big attractions of an Alaskan cruise is the opportunity to spot so much wildlife in its natural environment. Expect to see orcas, humpback whales, dolphins, sea otters, eagles, moose, puffins and even bears. If you are lucky you might spot the famous 'salmon run' where bears try to catch the leaping salmon in their mouths. For the avid bird watchers, make sure you chose an itinerary that goes through Alaska's Inside Passage as this one of the best spots to see all sorts of birdlife.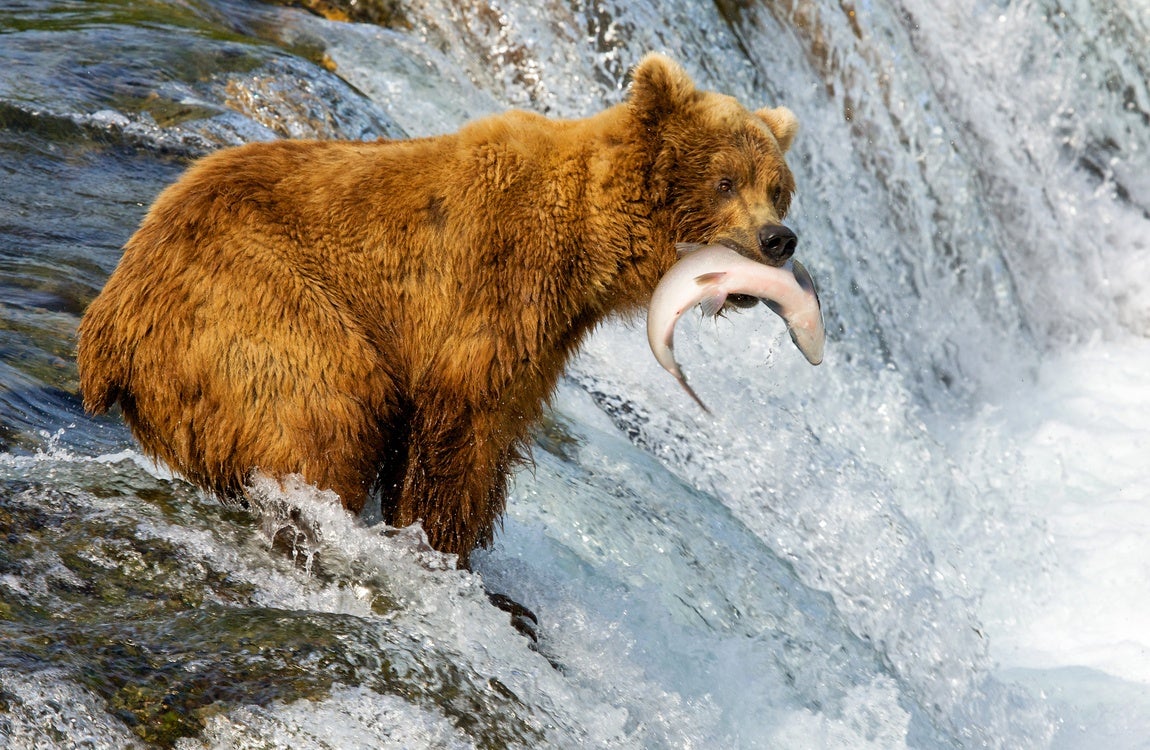 Take the time to learn about your surroundings
While attending a lecture might not be the first thing that comes to mind when thinking about fun things to do on your cruise holiday – on an Alaskan cruise, I highly recommend it. Most cruise company's will arrange for rangers and local experts to come onboard especially during cruising days when you are sailing by glaciers to tell you more about these magnificent features, how they have evolved, what wildlife to look out for in the area and so on. Believe me, you'll enjoy the experience all the more once you have a better understanding of the magnitude of what it is you are witnessing.
Consider adding a land tour to your Alaskan cruise
Some cruise companies give you the opportunity to add an Alaskan land tour onto your cruise holiday. These are a great way to journey even further into America's 'last frontier' and see even more of this beautiful region. Alaskan land tours can take you to the stunning Denali National Park, to Fairbanks where you can learn more about Alaska's gold rush history, Anchorage, Alaksa's main city and lots more. Plus you can travel on wilderness trains and coaches that give you plenty of wildlife spotting opportunities and you'll stay in authentic Alaskan lodges. Land tours can be added on pre or post cruise.

Start your Alaska cruise adventure today! Contact us and speak to one of our travel experts about your dream USA holiday!