Summer in Washington, DC – The Ultimate Guide
Picture this: It's summertime, and you're stepping into the heart of Washington, DC. The city is alive, drenched in golden sunlight, buzzing with the energy of locals and tourists alike. Everywhere you look, there's something captivating – iconic monuments soaring against the clear blue sky, lush green parks offering tranquillity amid the city's hustle, restaurants serving culinary delights that dance on your tongue, and an electrifying array of festivals and events, each more enchanting than the last.
We've compiled your ultimate summer guide to Washington, DC, packed with fabulous festivals and events, natural wonders and the best foodie spots in town. This guide is tailored to bring the best of the nation's capital to your fingertips so you can plan the trip of a lifetime.
Summer Festivals and Events: Get Into the DC Spirit

Washington, DC comes alive during the summer with a vibrant array of events and festivals that cater to diverse tastes. Immerse yourself in the exciting atmosphere as you explore the following must-attend gatherings:
Capital Pride
June 2nd to 11th 2023
Celebrate diversity and inclusivity at Capital Pride, held from June 2nd to 11th. With parades, concerts, parties, and community events, across the week, this festival, curated by the Capital Pride Alliance, creates a sense of unity and fosters awareness while showcasing the diversity and resilience of the LGBTQIA+ community.
While enjoying the festivities, be sure to explore popular LGBTQ+ Bars and Restaurants throughout DC's neighbourhoods which often run their own events and themed parties throughout Pride.
Capital Pride is not just a celebration; it is also a platform for raising awareness and advocating for LGBTQ+ rights. Throughout the city you'll find panel discussions and workshops that cover a wide range of topics, including activism, mental health, transgender rights, and intersectionality.
Awesome Con
March 8-10 2024
Geek out at Awesome Con, a pop culture extravaganza that showcases the best of comics, gaming, and entertainment. Get the chance to meet your favourite artists and celebrities, explore unique exhibits, and participate in engaging panels and workshops. Join fellow enthusiasts and embrace your inner geek at this exciting event. Awesome Con is typically held at the Walter E. Washington Convention Center, located in downtown Washington, DC.
Home Rule Music Festival
June 16th, 17th and 24th 2023
Celebrate the spirit of DC at the Home Rule Music Festival. Held at various locations, this festival pays tribute to the city's rich musical heritage. Enjoy an eclectic mix of performances, ranging from local talents to renowned artists. Best of all, admission to this festival is free. Mark your calendar for June 16th – 17th and 24th to be part of this dynamic musical celebration.
Giant National Capital Barbecue Battle
June 22th – 23rd 2024
Prepare your taste buds for a sizzling adventure at the Giant National Capital Barbecue Battle. Located on Pennsylvania Ave NW, this smoky extravaganza is a haven for BBQ lovers. Sample mouthwatering dishes, enjoy live music, and immerse yourself in the lively atmosphere. Tickets for this event start at $15, and it typically takes place on June 24-25.
Smithsonian Folklife Festival
June 29th – July 4th and July 6th – July 9th 2023
Experience the rich tapestry of global cultures at the Smithsonian Folklife Festival, held on the National Mall. This immersive event features exhibits, performances, and interactive activities that highlight the traditions and heritage of various communities. Immerse yourself in a world of diverse cultures and celebrate the beauty of human expression.
DC Fireworks on the 4th of July
4th of July
Experience an unforgettable 4th of July by witnessing the breathtaking DC Fireworks. Head to the National Mall and marvel at the spectacular display that lights up the night sky. Best of all, admission to this dazzling show is free, allowing you to celebrate America's independence in style.
For a unique perspective on the 4th of July fireworks, consider enjoying them from a family-friendly cruise. Various locations offer cruises that provide a front-row seat to the dazzling pyrotechnics. Prices for these cruises range from $50 to $200, ensuring an unforgettable experience for the whole family.
DC Jazzfest
August 30 – September 3 2023
Indulge in the smooth sounds of jazz at the renowned DC Jazzfest. Taking place at various locations, this festival showcases talented musicians and offers an unforgettable experience for jazz enthusiasts. Tickets for this event start at $20, and you can check online for specific dates and venues.
Nature and Outdoors: Lush Green Escapes in the Heart of the City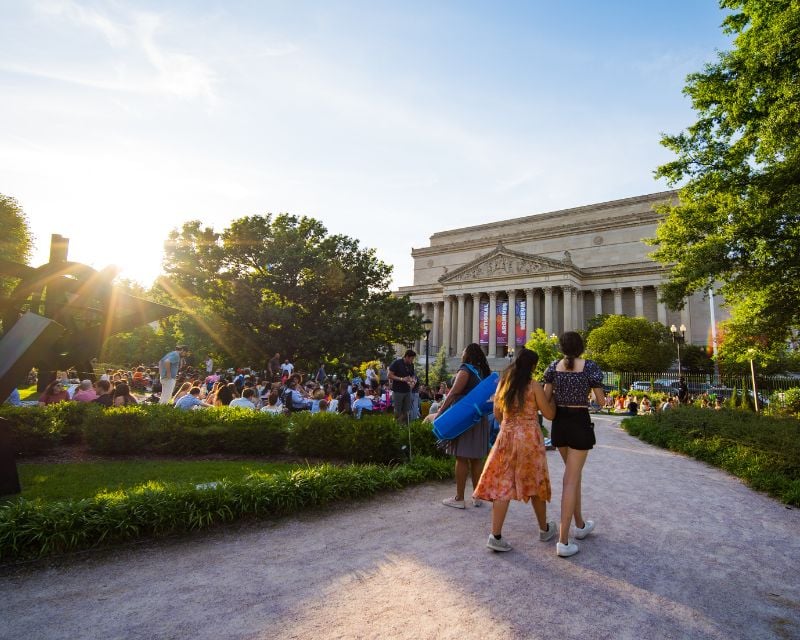 Washington, DC is so much more than politics and history – it's a nature lover's playground, teeming with green spaces, floral spectacles, and trails that dance with the whispers of wildlife. If you are feeling adventurous, this is a great place to explore in an RV road trip. Here are some natural wonders that add a splash of colour to this already vibrant city.
US National Arboretum
Who wouldn't want to step into a living museum of flora right in the heart of the city? At the US National Arboretum, you can explore 446 acres of lush gardens. It showcases native North American plants and features attractions such as the National Bonsai and Penjing Museum and the National Herb Garden. The arboretum is known for the Capitol Columns and offers Asian plant collections, a National Grove of State Trees, and opportunities for scientific research and conservation. Visitors can spend a summer's day enjoying walking trails, picnic areas, and educational programs.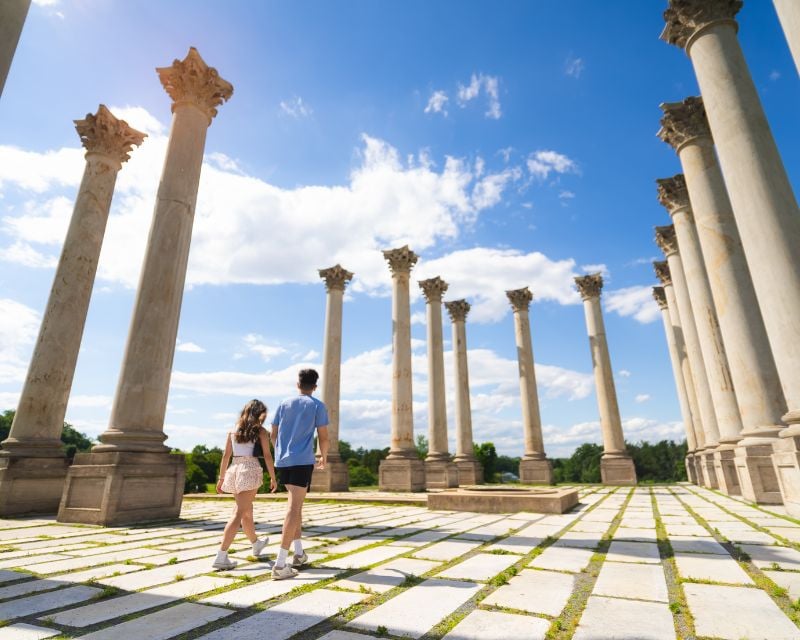 Rock Creek Park
Rock Creek Park is a vast urban park located in Washington, DC Spanning over 1,700 acres. It is an urban oasis that packs a picnic basket full of delights. Want to follow a trail that takes you away from the city's hustle and bustle? Check! Feel like gazing at the stars from their planetarium? Absolutely! And if horseback riding through the park sounds like your kind of fun, saddle up! The park stretches through the northwest section of the city, spanning a significant portion of the Rock Creek Valley and its surrounding areas.
C&O Canal and Mount Vernon Trail
The C&O Canal and the Mount Vernon Trail are certainly worth exploring while in town. These trails call out to all the joggers, cyclists, and leisurely strollers who want to get their heart rates up while drinking in the tranquil waterside scenery. It's a nature-infused workout like no other!
Kenilworth Aquatic Gardens
The Kenilworth Aquatic Gardens is a flower-powered wonderland! During the summer bloom, lotus flowers and water lilies play the starring roles in this aquatic ballet. You'll be spellbound by the spectacle – it's like stepping into an impressionist painting!
The peak time to see the blooming water lilies and lotus flowers is typically from late June to early August. To avoid crowds and enjoy a more peaceful experience, consider visiting the gardens in the early morning hours. Arriving shortly after opening (at 8:00 am) allows you to explore the gardens with greater tranquillity
Food: Indulge in DC's Culinary Delights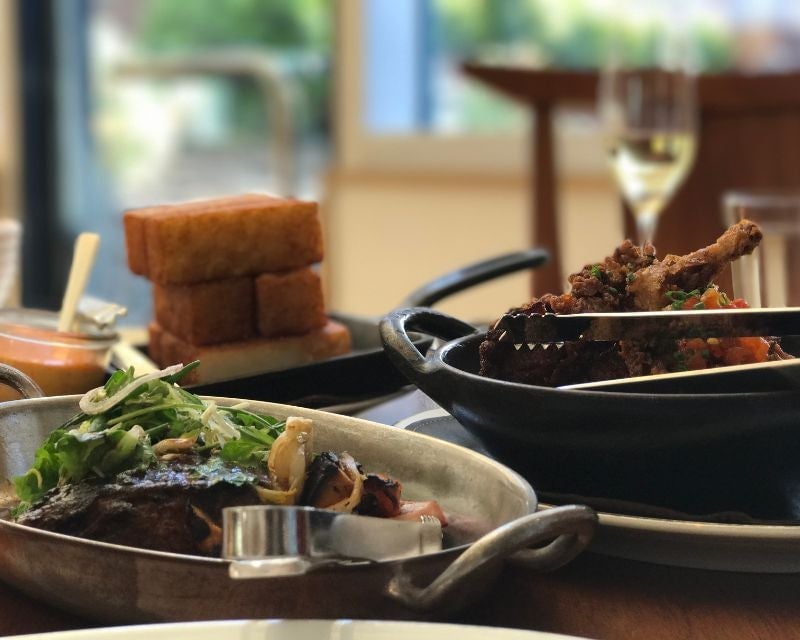 Washington, DC is a culinary haven, offering a plethora of delectable food options to satisfy every palate. We've listed our favourite options for everything from Brunch to a fancy Dinner and even our favourite Washington, DC food markets to browse some delicious local produce. Once you have eaten your fill, find out all the best things to do in Washington, DC at night.
Founding Farmers
For a farm-to-table experience, venture to Founding Farmers at 1924 Pennsylvania Ave NW. This iconic restaurant showcases dishes crafted from locally sourced and sustainable ingredients. With prices ranging from $15 to $25 per person, Founding Farmers invites guests to savour its innovative American cuisine. Open daily, it promises a memorable dining experience rooted in culinary excellence.
Old Ebbitt Grill
Located just a stone's throw away from the grandeur of the White House and the imposing facade of the Treasury, the Old Ebbitt Grill is an iconic dining establishment in Washington, DC, that effortlessly marries history, charm, and delectable cuisine. Renowned as the perfect setting for an invigorating early morning breakfast, a relaxed weekend brunch, or a post-theatre supper to top off an enchanting evening, it's a culinary destination that satiates your palate no matter the time of day.
Oyamel Cocina Mexicana
Steered by the culinary prowess of acclaimed chef José Andrés, Oyamel Cocina Mexicana is a gastronomic celebration of Mexico's regional diversity and urban vibe. Relish in an array of 'antojitos,' creative tacos, and ceviches, and don't miss the impressive desserts. Their guacamole, customised to your taste tableside, is a must-try. Oyamel also offers a unique beverage experience with innovative margaritas, a curated wine list, and a wide range of tequilas and mezcals. It's not just a meal, it's a flavourful journey into Mexican culture.
Dupont Circle FRESHFARM Market
Delight in the freshest local produce by exploring the Dupont Circle FRESHFARM Market at 1500 20th St NW, held on Sundays. Here, you'll find a wide array of farm-fresh fruits, vegetables, artisanal goods, and more.
Eastern Market
The Eastern Market at 225 7th St SE is a bustling marketplace open from Tuesday to Sunday, offering an abundance of food stalls, specialty shops, and local produce. Prices vary at both markets, ensuring an opportunity to savour the flavours of the region.
Gatsby
For an upscale dining experience, venture to Gatsby, located at 1201 Half Street SE. Indulge in a refined menu that showcases exquisite flavours and culinary craftsmanship. With prices ranging from $30 to $50 per person, Gatsby offers an elevated dining experience that combines sophistication and innovation. Open daily, it invites discerning diners to immerse themselves in its elegant ambiance.
Bluejacket
Bluejacket, under the expert guidance of beer director Greg Engert, is a boundary-pushing brewery where an array of styles and flavours come to life. The restaurant boasts a dynamic rotation of twenty distinctive Bluejacket beers and five cask ales, poured at perfect temperatures and primarily exclusive to the site. Executive Chef Marcelle Afram leads the kitchen, innovating classic pub fare with the finest locally sourced ingredients.
Discover More
Washington, DC is more than just a city; it's an experience. With our guide in hand, you're ready to explore and create unforgettable memories.
Allow us to help you plan an amazing holiday to Washington, DC this summer by speaking to one of our travel agents today! Let us turn your American holiday dreams into a reality and experience this incredible capital city for yourself!