The regions of Washington DC, Maryland and Virginia are collectively known as the Capital Region and a drive through these areas make for a perfect RV holiday road trip. Beginning with a city break in Washington DC before making your way through Maryland and Virginia, this RV road trip has something for everyone. Spend your days exploring majestic mountain trials, enjoying sunny coastal drives and seaside towns, wandering through quaint small towns and sampling delicious cuisine and once the evening comes, park up your RV in one of the campgrounds in the many State Parks you'll get to visit and recall your memorable day relaxing around the campfire every night.
Discover Washington DC
This road trip itinerary begins in the nation's capital, Washington DC, one of the best city break destinations in America and home to some of the most iconic sights in the country. It recommended you take a couple of days at the start of your trip to experience this fantastic city. Be sure to take the opportunity to visit the city's famous sights such as Capitol Hill, the White House, the Washington Monument, the National Mall and Veterans Memorials. A top tip is to do a twilight tour if the Lincoln Memorial, for an unforgettable experience! You should also visit Tidal Basin to check out the Jefferson Memorial and in spring it's the perfect spot to see the famous Washington DC cherry blossoms. Museums in Washington DC have free admission, so make the most of it and visit some of the fantastic options the city has to offer including the Smithsonian National Museum of Natural History, the National Air and Space Museum, the National Air and Space Museum and many more.
Experience stunning road trip driving routes
As you leave the city behind, this RV road trip itinerary will take on some of the most beautiful driving routes in America. As you make your way through the Capital Region you'll be taking in stunning views throughout your trip but there are a few routes you'll take that will really stand out.
The Skyline Drive


While in Shenandoah National Park you'll get the opportunity to drive the Skyline Drive which offers up magnificent views of the Blue Ridge Mountains and is renowned as one of America's favourite mountain drives. Along the 105mile route there are 75 scenic overlooks that offer stunning views of the Shenandoah Valley. The route is lined by beautiful wildflowers and keep your eyes peeled for the abundant wildlife that calls the area home.
The Chesapeake Country Scenic Byway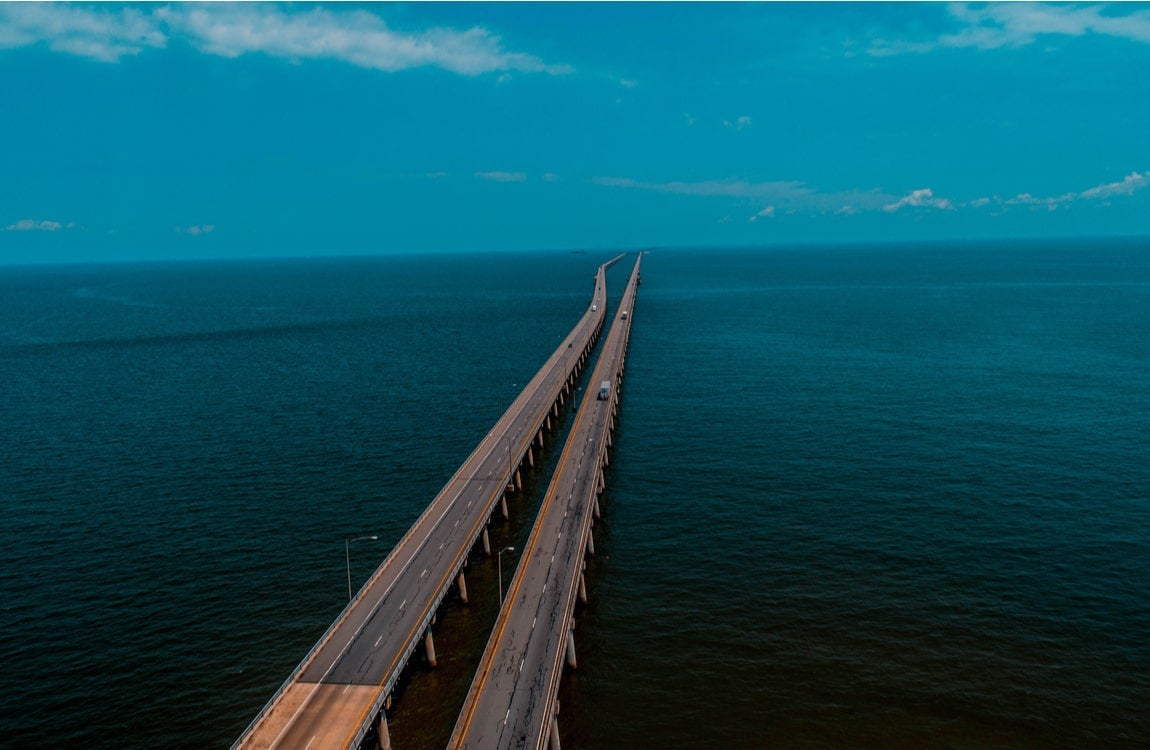 Chesapeake County is one of the most scenic parts of this route. As you depart from the serene Chesapeake Bay and drive this byway you'll come across charming coastal towns, maritime villages, and miles of unspoiled landscape. You'll also take the famous drive across the Chesapeake Bay Bridge Tunnel that takes you right out over the water for a fantastic driving experience.
The Historic National Road Scenic Byway
Built in 1811 as the main transport route for thousands of settlers helping with Maryland's westward expansion, the road is dotted with museums, exhibits and old stores that tell the story of the roads deep history all against the backdrop of the beautiful surrounding Maryland landscape.
Explore beautiful State Parks

On an RV road trip through the Capital Region you will get to visit plenty of State Parks and spend your nights in their campgrounds. America's State Parks are just as stunning with as many activities on offer as many of America's best National Parks, with the perks of less crowds and cheaper campground fees. In Maryland you'll spend nights in Rocky Gap State Park, home to glittering blue Lake Habeeb and surrounded by the Appalachian Mountains where you can hike or bike through beautiful forest trails or explore the park kayaking on the lake. In Maryland you'll also visit Elk Neck State Park situated on a peninsula in the region's famed Chesapeake Bay where days can be spent swimming, taking boat tours, kayaking, and picnics in beautiful surroundings!

As you continue into Virginia you'll get to explore more State Parks. First Landing State Park is located on Cape Henry in North Virginia Beach and located close to the bustling Virginia Beach area but is an oasis of calm you can escape to after a day at the beach. In Virginia you will also visit Shenandoah National Park which extends along the Blue Ridge Mountains and the days you spend here will be a real highlight of your road trip. Explore magnificent hiking trails through the Blue Ridge Mountains, keeping your eyes peeled for the bountiful wildlife that can be found throughout the park including bears!
Learn about Civil War History
The states of Maryland and Virginia are both home to plenty of civil war sites that are now top tourist destinations. In Maryland you will have the chance to visit Frederick County, where you will find many civil war battlegrounds and if you are a real history buff you might like to travel to Gettysburg which is only about an hour away and of course is the site of one of the famous Battle of Gettysburg which inspired Lincoln's Gettysburg Address. While in Virginia you can pay a visit to Colonial Williamsburg. Step back in time as you explore this living history museum town where you will find yourself immersed as you stroll through the town of re-created buildings from the 18th century visiting the courthouse, the carpenters, weavers, and armoury and other buildings that were important to daily life back then. There are always plenty of events going on in the town to further exhibit what life was like in 18th century Virginia.
Tailor made RV Roadtrip Holidays
If you would like to visit this vibrant and diverse region on a RV road trip holiday of your own, check out our great RV road trip offers click here for more information about the Capital Region RV Holiday or call our travel experts to tailor make your very own RV adventure.