When thinking about a great American road trip, there are few more iconic routes than a glorious meander down the West Coast. Stretching from Seattle, Washington, all the way down to San Diego California, explore jagged coastlines, quaint seaside towns, fantastic beaches and some of the most stunning scenery the USA has to offer, all with the added bonus of the beautiful sunny weather we all know the West Coast offers. Our travel experts take you through a West Coast Road Trip suggested itinerary for you to follow.
Seattle

With direct flights from Dublin to Seattle with Aer Lingus, this city is a great place to start your American road trip. On arrival, take a day or two to check out the vibrant, eclectic city of Seattle. Home to a thriving food and drink scene, Seattle is a great spot to kick off your holiday from. Pay a visit to Pike Place Market, the waterfront farmers market that stretches over 9 acres and is filled with delicious food stalls! The Space Needle is of course the iconic image of Seattle. The view from the observation deck 185 metres high over the city is simply spectacular. A visit to Chihuly Garden and Glass will also be a real highlight of your time in Seattle. Here you will find Dale Chihuly's remarkable glass designs.
Seattle – Port Angeles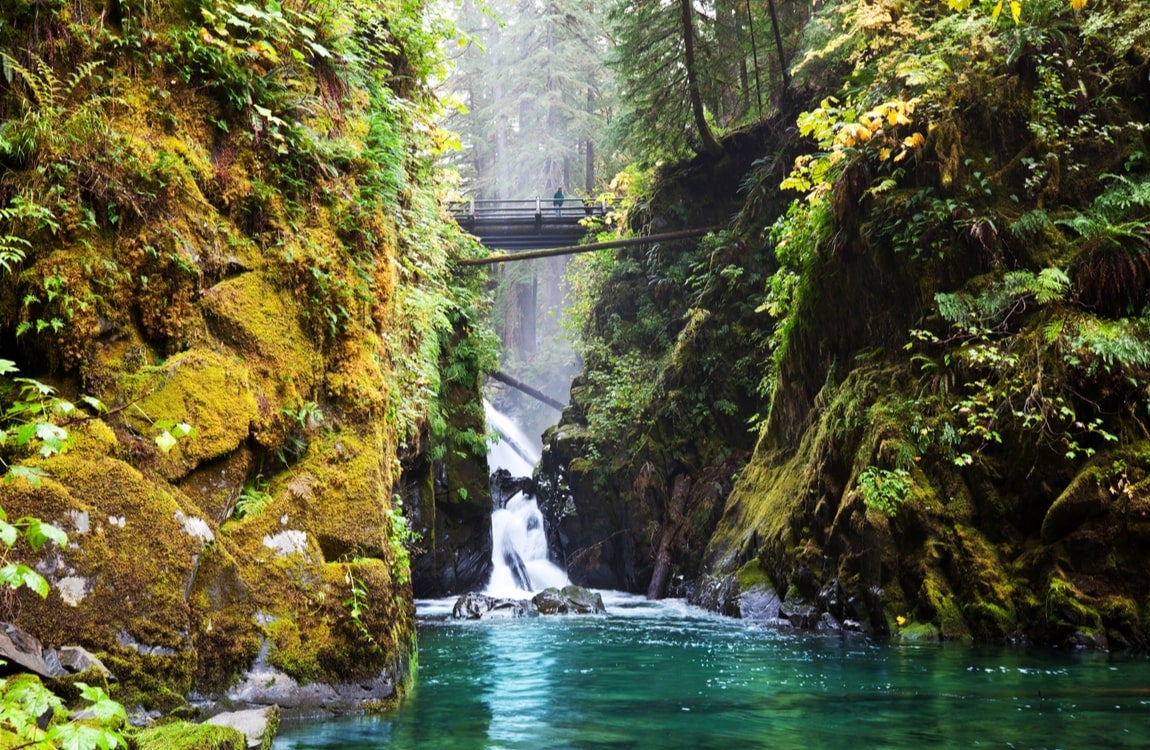 Then it's time to hit the road on your West Coast road trip! We recommend the first stretch you do is Seattle to Port Angeles and spend your first night there. Port Angeles is where you will find the magnificent Olympic National Park and you'll want some time to explore it. Home to lush green temperate rainforests, miles of spectacular coastline and beaches and the dramatic peaks of Mt. Olympus this National Park is one of the real highlights of the Pacific Northwest. Take a break from driving and explore the park on some of the many hiking trails that run through it.
Port Angeles – Newport

Port Angeles to Newport makes for a good next stretch of your road trip. Make a stop at Long Beach, taking a leisurely stroll along the boardwalk through the dunes and keeping an eye out for the kites that the area is famous for or take a horseback ride along the beach. Head into Long Beach town for a well deserved ice-cream from the famous Scoopers ice cream parlor. Leaving the state of Washington behind, you'll enter Oregon where can turn inland to pay a visit to the city of Portland and stay a night here or continue along the beautiful coastline to Newport. A former fishing village turned beach resort is the perfect spot to relax in after a day of driving, and an even nicer place to wake up in the next morning to the sound of the crashing waves.
Newport – Crescent City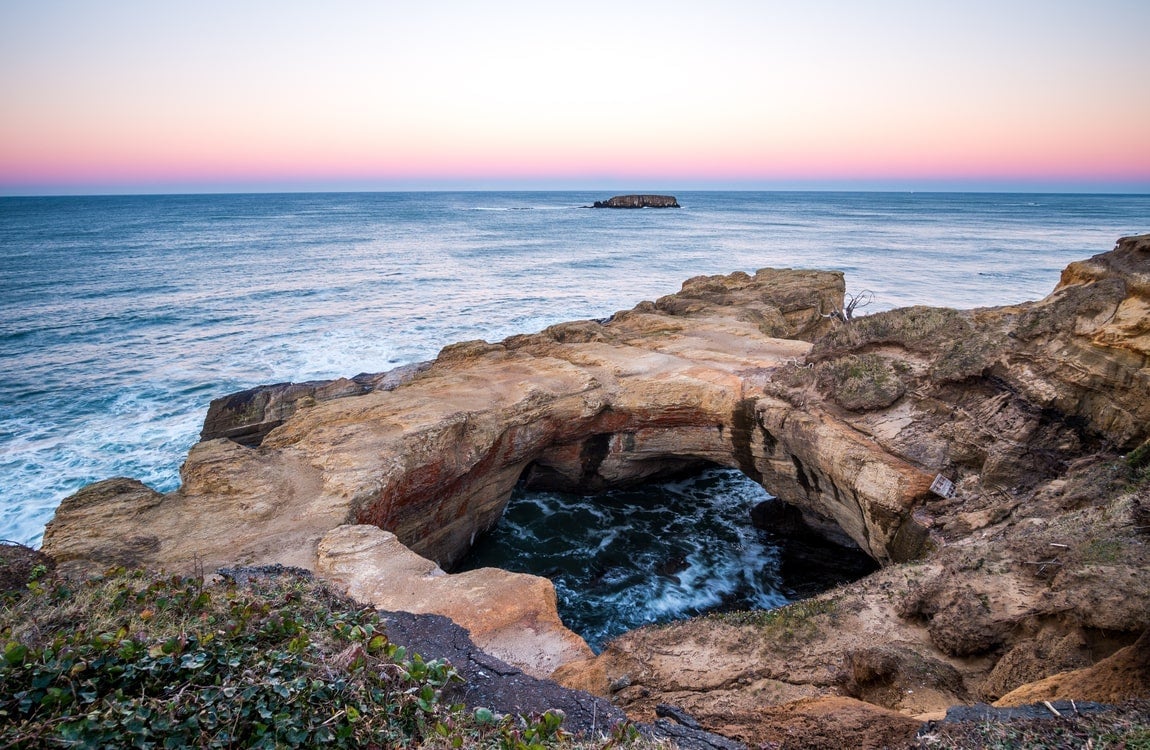 On your way out of Newport on the next part of your trip, be sure to stop off at The Devil's Punchbowl, one of the most interesting spots along the West Coast. It's also a popular whale watching spot, so why not pack up your breakfast and enjoy by the sea looking out for whales! As you continue on along the Pacific Coast Highway and into California, you'll pass plenty of beaches you'll be tempted to stop off at as you drive the coast, they are all stunning so take you pick! You'll arrive in Crescent City in Northern California. Park up for the evening and take a stroll down to Crescent City Harbour where you can come across sea lions, harbour seals and pelicans or take a swim at Crescent Beach before enjoying a seaside dinner.
Crescent City – San Francisco

Back on the road, you'll be witnessing the jagged, remarkable coastline that springs to mind when you think about a West Coast road trip as you make your way down the California Coast towards San Francisco. Soon you'll head slightly inland and get the opportunity to explore some of the Redwood forests that Northern California is famous for. Pay a visit to Humboldt Redwood State Park where you will find the largest remaining old growth coastal redwoods in the world at thousands of years old. Stretch the legs on a hike trial through this astonishing park and be sure to plan your route that you can take a drive through Shine Drive Thru Tree, one of the last remaining drive thru redwood trees.


Back on the road, head back towards the coast and make another stop at Fort Bragg Beach, a beautiful glass beach, so called as the whole beach is made of multicoloured sea glass washed up from the Pacific Ocean before continuing on to San Francisco.
San Francisco – San Luis Obispo

San Francisco is such a fantastic city, if time allows it, take a couple of nights here to see more of the city. Take a cycle over the Golden Gate Bridge, visit the famous Alcatraz, hang out at the trendy Pier 39 and browse the stalls at Fisherman's Wharf.


Then get back on the road for one of the most enjoyable drives you'll have had so far as you pass through the glorious, quaint seaside towns of Monterey and Carmel-by-the-Sea where you will find beautiful beaches. You could chose to spend a night in either of these places, or continue on, over the famous Bixby Bridge as the Pacific Coast Highway winds around steep cliff paths into iconic Big Sur. From there follow the highway through to San Luis Obispo, a great spot to relax after a thrilling day on the road as you kick back and spend the evening gazing out over the sea.
San Luis Obispo – Los Angeles

Start your day with a swim at nearby Pismo Beach, or if you are a fan of water-sports you can also enjoy kayaking, kite boarding or surfing at this popular beach spot. From here your route will take you slightly inland again as you make your way down towards Santa Barbara. This is the perfect place to stop off for a bit of lunch and to stroll around this beautiful town. Take the afternoon to wind your way down to Los Angeles. Another iconic West Coast city, you may again chose to take a few days here to see as much of the City of Angels as you can. For those with stars in their eyes, check out the famous Hollywood sign and the Hollywood Walk of Fame, get your thrills at Universal Studios or Disneyland Park, head back to the sea at Venice Beach or take a hike in the Hollywood Hills to Griffith Observatory.


With direct flights from Los Angeles to Dublin you might chose to end your west coast road trip adventure here or continue on to San Diego to finish off the trip. Check out our great west coast fly drive package from Los Angeles to Seattle.
Los Angeles – San Diego

Leaving LA behind, start your day off with a stop at Huntington Beach. A cool surf town, you'll enjoy the laid back vibe after the hustle and bustle of LA. Due to the city's proximity to the border, you'll find plenty of delicious Mexican food on offer when you arrive in San Diego, be sure to indulge! San Diego boasts a walkable harbour-front, home to shops, eateries and bars and a great spot to head to, to celebrate finishing your West Coast road trip.
Dreaming about your own West Coast adventure? We have some great west coast road trip packages on offer. Contact our travel experts today and let's call that dream a plan.