The Mediterranean region is one of the most beautiful and most visited regions in Europe and indeed the world. From the glistening waters of the Italian coast to the seemingly endless number of Greek islands to explore, you will not run out of reasons to love the Mediterranean. The one problem is that the area is so big, that it can be hard to do everything you want to do while you're there. That is why a cruise can be a fantastic opportunity to discover multiple places in a short space of time. Our cruise experts have come together to share their recommendations for the best Mediterranean cruises in 2023.
American Holidays have some amazing cruise deals that will allow you to experience the beauty of the Mediterranean, but which one is right for you?
We've listed our top 4 Mediterranean Cruises, outlining everything from Budget, History & Culture, Natural Beauty, Cuisine, and more to help you decide!
Western Mediterranean Cruise – Italian Focus
Barcelona – Palma De Mallorca – Marseille – Florence/Pisa – Rome – Naples – Barcelona
Best Cruise for: Travellers with a love for History and Architecture
The Key Details
Duration: 9 Nights (2 Night Stay Barcelona, 7 Nights On-Board)
Ship: Cruise onboard Symphony of The Seas
Cost: From €2065pp
Ports of Call: Barcelona, Spain – Palma De Mallorca, Spain – Provence (Marseille), France – Florence/Pisa (Laspezia), Italy – Rome (Civitavecchia), Italy – Naples, Italy – At Sea – Barcelona, Spain
History & Culture
Embark on your Western Mediterranean Cruise by starting in Barcelona, where you'll have two nights to enjoy the Catalonian city, which is a cultural hub full of architectural wonders and artistic treasures.
You will then set sail for the island of Palma de Mallorca that dates back to the Talayotic era, before moving on to France's oldest city, Marseille where you'll experience the beauty of Basilique Notre-Dame de la Garde, which dates back to the 19th Century.
Continue your cruise in Italy where you'll experience some of Europe's most iconic sites such as Pisa's famous leaning tower, Florence's Santa Maria del Fiore cathedral, the towering Mount Vesuvius near Naples, and everything that Rome, the Eternal City, has to offer from the Vatican City, the Trevi Fountain, and of course the Roman Colosseum.
Natural Beauty
Wonder at Barcelona's golden beaches and lush parks, Palma de Mallorca's rugged mountains and turquoise waters, and Marseille's emerald hills. Florence and Pisa are surrounded by verdant hills, vineyards, and olive groves, and Rome's lush gardens, rolling hills, and ancient ruins will have you awe-inspired. Finishing your Western Mediterranean tour off in the natural paradise of Naples, with its sparkling sea and majestic Mount Vesuvius.
Cuisine
As you move through each stop on this cruise, you will be tantalised by the delicious cuisine. In Barcelona, savour the seafood and tapas, paired with local wines. In Palma de Mallorca, indulge in delicious fresh seafood. Marseille's French, Italian, and North African fusion cuisine is a treat, and in Florence/Pisa, delight in Tuscan cuisine like fresh pasta and olive oil. Then be sure to do as the Romans do and savour the rich flavours of pasta, pizza, and gelato, not forgetting some Neapolitan-style ice cream in Naples.
Western Mediterranean Cruise – Spanish Focus
Barcelona – Valencia – Ibiza – Portofino – Ajaccio – Corsica -Florence/Pisa – Rome
Best Mediterranean Cruise For: Instagram-worthy landscapes and natural beauty.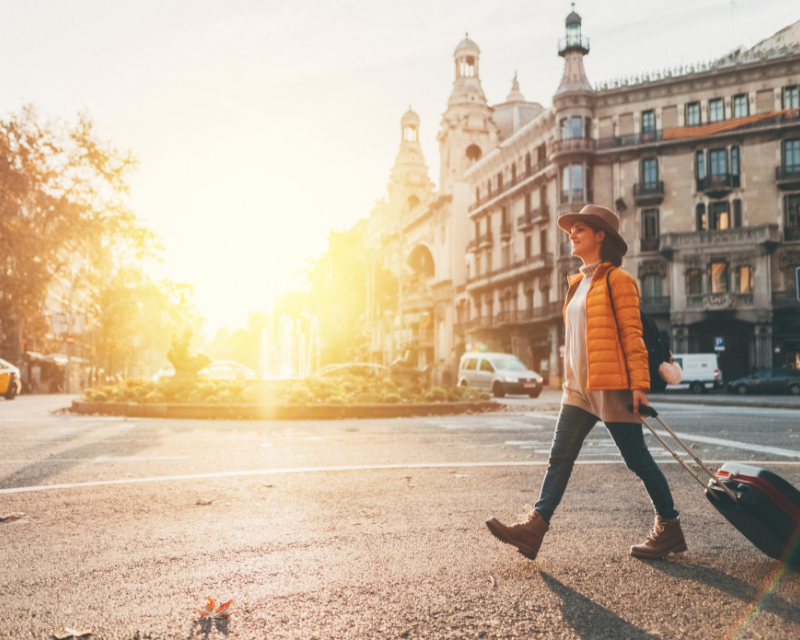 The Key Details
Duration: 11 Nights (2 Night Stay Barcelona, 7 Nights On-Board, 2 Night Stay Rome)
Ship: Cruise onboard Celebrity Edge (includes Classic Drinks, Basic Wifi and Tips)
Cost: From €2638pp
Ports of Call: Barcelona – Spain; Valencia – Spain; Ibiza – Spain; At Sea; Portofino – Italy; Ajaccio – Corsica – France; Florence/Pisa(Laspezia)Italy; Rome (Civitavecchia) – Italy
History & Culture
On this Spanish focused Western Mediterranean Cruise, your journey starts in vibrant Barcelona where you can explore the incredible architectural marvels such as La Sagrada Familia and Guell Palace. In Valencia, stroll through the historical centre and admire the Cathedral and Miguelete, then embrace your party side and enjoy the world-famous beach clubs and crystal-clear waters in Ibiza. Discover the bustling fishing village of Portofino, before visiting the birthplace of Napoleon Bonaparte in Ajaccio, Corsica. In Florence, climb the famous Santa Maria del Fiore cathedral or visit Galleria dell'Accademia to see Michelangelo's David. Ending your Mediterranean Cruise adventure in Rome, a city alive with ancient ruins, world-renowned art, and vivacious street culture.
Natural Beauty
This Cruise does not fall short when it comes to breathtaking natural landscapes. Be awestruck by Valencia's verdant Turia Gardens and enchanted by Ibiza's white sandy beaches and crystal-clear waters. Portofino's picturesque harbour surrounded by lush hillsides will take your breath away and remain breathless taking in the beauty of Corsica's UNESCO World Heritage Site, Calanques de Piana. The rolling hills of Tuscany provide a stunning backdrop as you explore Florence and Pisa's Renaissance architecture. Safe to say, your Instagram feed will be the envy of all your friends with the photo-perfect locations on this cruise.
Cuisine
Yet again, when cruising in the Mediterranean, food is one thing you will never be disappointed with. Indulge in delicious tapas and paella dishes in Barcelona and Valencia, fresh seafood with unique Mediterranean flavours in Ibiza, and to-die-for Portofino pesto. In Ajaccio, Corsica, you'll savour unique charcuterie and local cheeses while Florence, Pisa and Rome bring hearty pasta dishes and legendary pizza.
Greek Islands and Italian
Athens – Santorini – Kotor – Sicily – Naples – Barcelona
Best Cruise For: Travellers on a Budget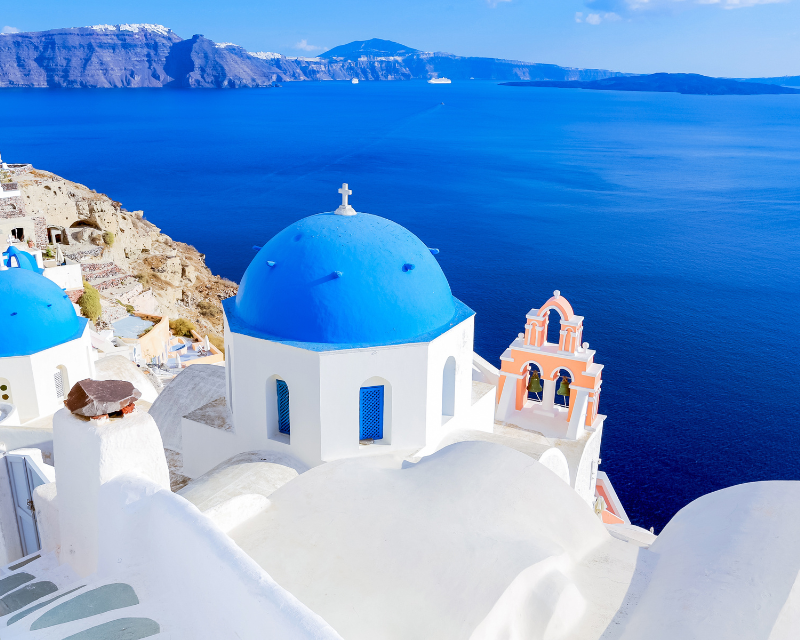 The Key Details
Duration: 8 Nights (1 Night Stay in Athens, 7 Nights On-Board)
Ship: Cruise onboard Enchanted Princess (includes Drinks Package, Wi-fi, Tips)
Cost: From €1949pp
Ports of Call: Athens (Piraeus), Greece; Santorini, Greece; At Sea; Kotor, Montenegro; Sicily (Messina), Italy; Naples, Italy (for Capri & Pompeii);At Sea; Barcelona, Spain
History & Culture
This Greek Islands and Italian Cruise offers a wealth of historic and cultural attractions, from the ancient ruins of ancient wonders of the Acropolis and the Parthenon and Santorini's traditional villages and iconic white and blue architecture to the charming mediaeval old town of Kotor. Marvel at the stunning baroque architecture of Naples and unparalleled access to Pompeii and Herculaneum, ending the 8-night tour in Barcelona, enchanted by the works of Gaudí and the Gothic Quarter's intricate design.
Natural Beauty
As you journey through Athens, marvel at the stunning views of the Acropolis and the lush National Gardens. In Santorini, the turquoise waters of the Aegean Sea and the dramatic cliffside landscapes will take your breath away. Kotor boasts towering mountains and serene coastal vistas. Sicily offers verdant vineyards and the majestic Mount Etna. Naples boasts the stunning Bay of Naples and the picturesque Amalfi Coast. Finally, in Barcelona, you'll be captivated by the stunning beaches and the rolling hills of Montserrat.
Cuisine
Sample savoury moussaka and tzatziki in Athens and indulge in freshly caught seafood and tangy fava bean puree in Santorini. In Kotor, you will taste rich meat stews and hearty cheese pastries while Sicily offers fresh seafood and flavourful pasta dishes. Naples boasts the famous Neapolitan pizza and delectable pastries and Finally, in Barcelona, you'll savour seafood paella and endless crispy churros with hot melted chocolate, delicious!
Eastern Mediterranean Cruise – Greek Focus
Venice – Montenegro – Corfu – Athens – Mykonos – Argostoli
Best Mediterranean cruise for: Foodies ready to savour the best of Mediterranean Cuisine
The Key Details
Duration: 7 Nights On-Board
Ship: Cruise onboard Explorer of The Seas
Cost: From €2225pp
Ports of Call: Ports of Call: Venice (Ravenna) – Italy; Kotor – Montenegro; Corfu – Greece; Athens (Piraeus) – Greece; Mykonos – Greece ; Argostoli – Greece; At Sea ; Venice (Ravenna) – Italy
History & Culture
This Eastern Mediterranean Cruise will bring you on a tour of the iconic canals of Venice, and onto the ancient walled city of Montenegro. In Corfu, enjoy the rich culture on display in its museums, art galleries, and theatres. Then be astounded while travelling through the Greek islands of Athens with its ancient wonders and the stunning Cycladic architecture and vibrant nightlife scene of Mykonos. While Argostoli's traditional charming old town offers a glimpse into the island's past, finishing back in the "Queen of the Adriatic" that is Venice.
Natural Beauty
Safe to say, the Mediterranean landscape is breathtaking and this cruise is no different. In Venice, you'll be blown away by the iconic canals and jaw-dropping architecture. Montenegro's got your back with majestic mountains and the stunning Bay of Kotor. Corfu is a lush paradise with crystal-clear waters to dive into. Athens brings ancient history and scenic sea views. Mykonos will have you living your best life on its gorgeous beaches and taking in the white-washed houses by the sea. And last but not least, Argostoli will take your breath away with its rolling green hills and the mesmerising Melissani Cave Lake.
Cuisine
If you're a self proclaimed foodie, then the Eastern Mediterranean is where it's at for your next culinary adventure! In Venice, you'll savour fresh seafood dishes like baccalà mantecato and sarde in saor, paired with crisp local wines. Montenegro is home to traditional Balkan cuisine, such as hearty meat stews and the iconic burek pastry. In Corfu, sample mouthwatering dishes like pastitsada and sofrito, with fresh herbs and spices that the Mediterranean is famous for. In Athens and Mykonos, experience the best of Greek cuisine, from tangy tzatziki to succulent souvlaki, paired with refreshing ouzo. And in Argostoli, savour the island's unique cuisine, featuring fresh-caught fish and local specialties like Kefalonian meat pie and kreatopita.
And there you have it, American Holidays' Top 4 Mediterranean Cruise Picks!
But that's not all, discover more unbeatable deals on our special cruise offers page and embark on your unforgettable Mediterranean adventure today!
And if you still can't decide, speak with our travel experts today to choose the perfect Mediterranean cruise for you!