Have you been dreaming about taking a Hawaii cruise in 2022? Sail in style with Princess Cruises on one of their Hawaiian Islands roundtrips from the West Coast of America and come back new after the cruise holiday of a lifetime! Our cruise product manager Astrid takes you through the best way to enjoy your Hawaiian cruise on board on a Princess Cruise holiday.
Sailing to Hawaii
California is the closest USA mainland state to Hawaii so I would recommend starting your cruise holiday in the Golden State. Princess Cruises' Hawaiian cruises depart from both San Francisco and Los Angeles so why not spend a few days soaking up that West Coast sun before embarking on your cruise. High season in Hawaii is from December to April so it's the perfect opportunity to fit in some winter sun.
Once onboard it takes about 5 days to sail from California to Hawaii but sailing with Princess Cruises, you will have plenty of opportunities to get into the Hawaiian spirit along the way!
Onboard Experiences on a Hawaiian Cruise
One of my favourite things about sailing on board a Princess Cruise is their destination themed activities. For example on a Mexican cruise you will enjoy Maricachi band performances, Samba dancers on a South American cruise or street pan drum lessons on a Caribbean cruise. On board a Hawaiian cruise you can avail of Hulu dancing and ukulele lessons. Between October – May each year you can also take part in the King Kamehameha Festival on board and celebrate the national holiday of the Kingdom of Hawaii. Don your best Hawaiian shirt, throw a lei around your neck and immerse yourself in Hawaiian culture!
Visiting the Hawaiian Islands
Princess Cruise sailings call at four of the Hawaiian islands, Oahu (Honolulu), Maui, Kauai and Hilo (Big Island).
Oahu would be one of the best known of the islands. Waikiki Beach is probably the most famous beach in Hawaii and it's well worth a visit! If you enjoy lying on the beach or prefer surfing SUPing or canoeing there's something for everyone. Oahu is also home to Pearl Harbor and there are always plenty of onshore excursion tours to chose from to visit this historic landmark.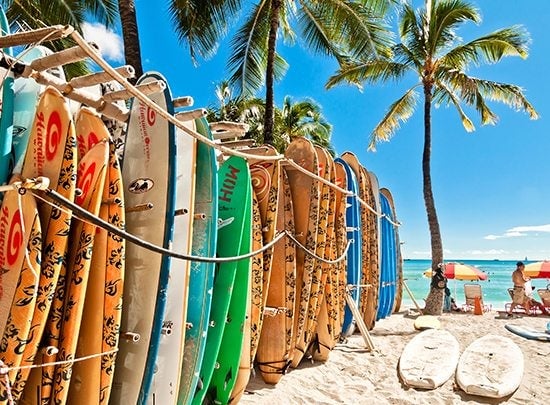 The tropical paradise of the island of Maui is a real gem for nature lovers with it's stunning landscapes. I would recommend a trip to one of the National Parks on the island. Haleakala National Park is home to miles of trails through volcanic landscapes. Iao Valley State Park meanwhile is dedicated to the rich marine life found in the waters of the Hawaiian Islands. Whale watching is another popular onshore excursion on a Hawaiian cruise and Maui is one of the best places to do it!
Kauai Island is known as the Garden Island and boasts beautiful volcanic slopes against the backdrop of lush green ferns. Pay a visit to the North Shore of the island for some of the most beautiful views in the world where the white sand beaches lie against a backdrop of lush rainforests and mountain waterfalls. I'd also suggest a trip to Waimea Canyon (known as The Grand Canyon of the Pacific), the views will take your breath away.
Hilo Island provides a total change of scenery as you go from white sand beaches to black sand beaches and volcanic mountains. A visit to the Hawaii Volcanoes National Park is highly recommended. A tour taking in Hilo Town itself is also a great way to spend your time here.
Want to experience your own Hawaiian cruise holiday? Call any of our travel experts today about your holiday of a lifetime!