Holidays to Antigua are an unforgettable experience. Beautiful beaches, lush rainforests and a rich sailing culture are what this Caribbean island is all about! Here our travel expert Audrey has put together her top things to do in Antigua.
Take in the views at Shirley Heights
Shirley Heights is one of the most popular spots on the whole island of Antigua. A restored military lookout it offers the best views out over the island and in particular English Bay down below. The best time to climb to the top is for either sunrise or sunset for the best views. Meanwhile, Sunday evenings at Shirley Heights are famous and not to be missed! Locals and tourists come together as barbeques are lit, rum punches are poured and a steel band strikes up for the island's biggest weekly party!
Hit the beach
Famously, you can visit a different Antigua beach every day of the year as the island boasts 365 beaches! The resort hotels in Antigua of course are right on a beach so you can just step out and be right by the shore but it's definitely worth checking out some of the other beaches on the island. No matter what you want from your beach day you will find the perfect one for you, whether you are looking for quiet secluded spots, beaches with lots of water sports available or beaches with Caribbean beach parties and beach bars! Some of the most famous beaches in Antigua worth checking out include Darkwood Beach, Half Moon Bay Beach, Dickenson Bay and Hawksbill Bay.
Stroll around St John's
St John's is the colourful capital city of Antigua. It is home to the Museum of Antigua and Barbuda, one of the top tourist attractions in Antigua, showcasing the islands rich marine history. Pay a visit to the local market and try out some tasty dishes, stroll down to the bay and watch the fishing boats and yachts sail by or snap some memorable pictures against the candy coloured buildings that St Johns is famous for.
Take a road trip
The island of Antigua is only 108 square kilometres so it's a great idea to rent a car for the day and get out to discover the whole island and see life outside your resort. Set out along splendid coastal roads and into the lush greenery of the rainforests. Though the island is small, give yourself plenty of time to explore, chances are there are plenty of spots you'll come across where you'll be tempted to jump out for pineapple refreshments under the palm trees or to dip your toes into the water on a glorious beach.
Brave the rainforest zipline
Step away from Antigua's stunning coastline and swap blue for green as you find yourself surrounded by soaring mountains and lush green rainforest and the best way to see it is from above! Head to Antigua Rainforest Company and their exciting network of ziplines and aerial walkways that they have set up throughout the hills. Strap in to spend an afternoon whizzing above the treetops with panoramic views of the surrounding rainforest.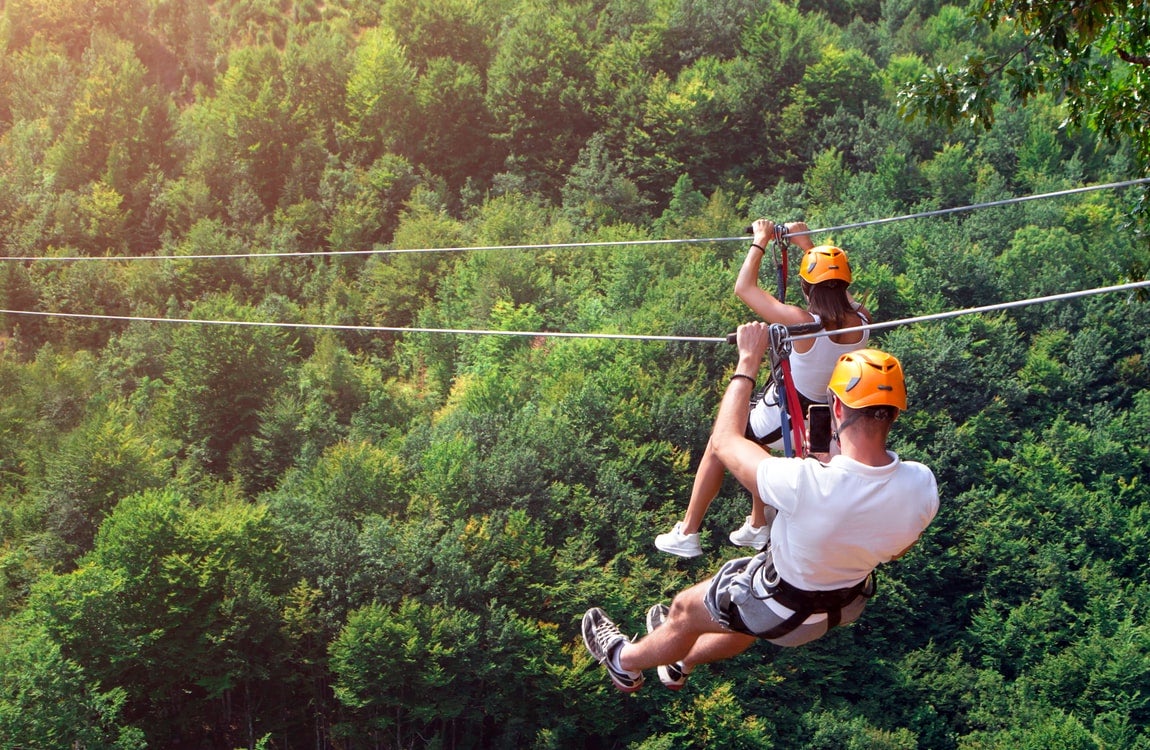 Take a boat trip to Barbuda
Barbuda is Antigua's sister island, located a 90min boat trip away. Boat trips to Barbuda depart 6 days a week from St John's and this is a great way to spend a day out on the island. Barbuda has the deep blue Atlantic on one side with wild beaches full of driftwood and shells, and the Caribbean Sea on the other, with pink sand beaches perfect for swimming and snorkelling, and with plenty of opportunities to see animals, fish and birds in their natural habitat.
Contact Us
Planning a trip to the Antigua? Whether it's a romantic couples getaway or the family holiday of a lifetime, American Holidays travel experts have a great selection of Antigua holiday offers and our travel experts are on hand to help tailor make the perfect Caribbean holiday for you. Call us now for more information.