Why choose all-inclusive for your Cancun Honeymoon
Why choose all-inclusive for your Cancun Honeymoon? Cancun is a honeymooners' paradise. Idyllic Caribbean beaches, luxury resorts and a vibrant nightlife make it a very popular choice of honeymoon destination. There are numerous of all-inclusive resorts in Cancun and the surrounding areas, offering exceptional facilities and a variety of activities. There are lots of reasons why you should choose an all-inclusive package for your Cancun honeymoon.

Choosing an All-Inclusive Resort
Choosing the right all-inclusive resort is very important. Do you want an adults-only resort, a beachfront resort, a centrally located resort or a large, lively resort with lots of entertainment? If you plan to explore Cancun and the surrounding areas then choosing a centrally located resort or one with a free shuttle bus can be very advantageous. It will save you money on transportation costs.
Most resorts offer accommodation, food and drink as part of their all-inclusive packages. Do your research to check what extra charges, if any, apply to activities. Most all-inclusive resorts offer free activities such as snorkelling but can charge extra for golf and spa treatments. See which activities appeal to you most and if an extra charge applies.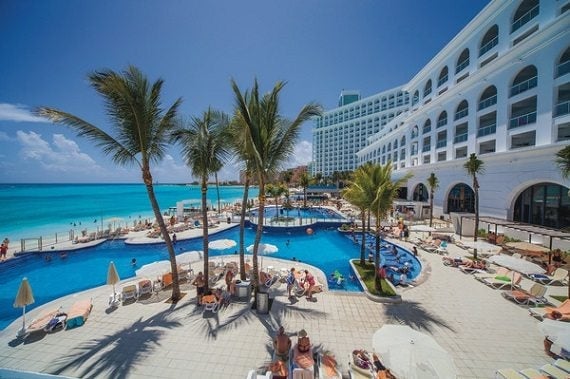 Why choose all-inclusive in Cancun
Cancun also offers a range of exciting things to do including excellent water sports, day trips to explore some of the ancient Mayan ruins in the Yucatán Peninsula and some incredible entertainment. Choosing an all-inclusive resort has many advantages including offering more control over the honeymoon budget. Choosing all-inclusive might allow honeymooners the opportunity to choose a more upmarket resort in the knowledge that they have paid for the majority of their expenses in advance of arrival. This means financial worries are left at home, allowing more time to relax and enjoy some fun in the Mexican sun.
Best All-Inclusive Resorts – Ask the Experts
If you are planning an all-inclusive honeymoon to Cancun, speak to an American Holidays travel expert, we have first-hand experience of the best resorts in Cancun. We'll arrange a great all-inclusive honeymoon package to Cancun and give you expert advice on what to see and do when you get there. Call us now.