The Bahamas is made up of 700 islands and over 2000 cays and is a paradise of glorious beaches, with the whitest of sand and the clearest of waters, luxurious resorts, delicious Caribbean cuisine and picturesque towns and harbours. With so much to offer, a holiday to The Bahamas should definitely be on your list!
Check out some of our top things to do in The Bahamas
Hit the beach!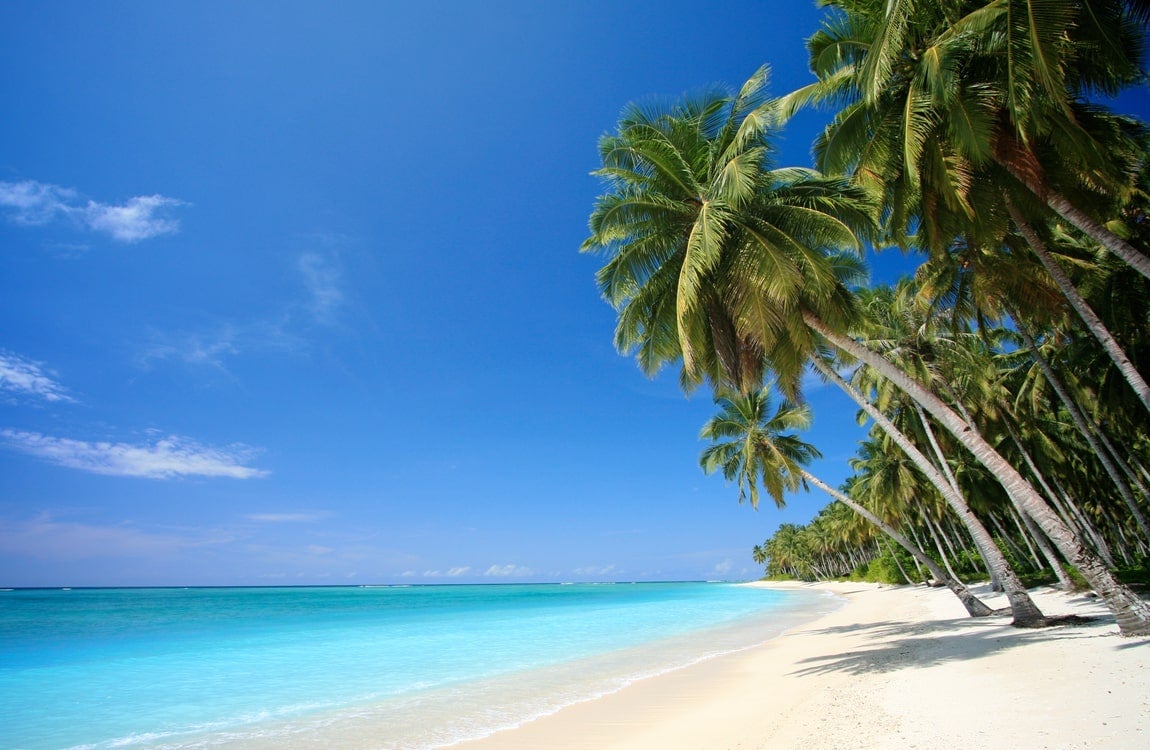 The Bahamas Islands boast some of the best beaches in the world so is the perfect spot of sun, sea and sand lovers! Miles upon miles of powdery white sandy beaches with beautiful shimmering turquoise waters that remind you that you are in paradise as they stretch out in front of you. From tiny secluded cays to fun filled lively atmospheric beaches to the famous pink sand beaches of Harbour Island, there are truly so many to chose from! Water sports are huge in the Bahamas so make sure to take part in snorkelling, diving, surfing, jet skiing, fishing and boat ride adventures!
Spend a day at the Atlantis Aquaventure Water Park
Situated in the Atlantis Paradise Island Resort, Atlantis Aquaventure is a 141 acre water park is jam packed with activities! Home to 8 epic waterslides with names like The Drop, Leap of Faith, The Surge, The Abyss and The Falls, you can just imagine the thrills that await you. There's also river rides with rolling rapids, a whopping 13 pools – providing a mix of kids, families and adult only options and private cabanas for rent for a day of true luxury! If you prefer salt water, the park opens out onto 5 miles of glorious beach or you can try your luck in the casino or on the oceanfront golf course.
Access to Atlantis is free for guests staying in resort or day passes can be purchased (price varies depending on the time of the year) but with only a limited number of day passes available per day, this is definitely one to book in advance to avoid disappointment!
Visit Exuma – the home of the Swimming Pigs!
Exuma is made up of a chain of tiny islands divided into three main areas – Great Exuma, Little Exuma and the Exuma Cays. If you are staying on Exuma you will most likely be staying in Great Exuma which is connected to Little Exuma by a small bridge and is perhaps best well known as the home of the famous Tropic of Cancer Beach. Further north you'll find the Exuma Cays, the most beautiful part of the islands. Swim in pristine blue waters on secluded beaches, take snorkelling adventures on the reefs and underwater caves or take a boat ride to Big Major Cay, home to the world famous swimming pigs! These playful inhabitants are well used to human interaction and will even be happy to part of your holiday snaps! On your island hopping escapades be sure to also visit Stocking Island to pay a visit to the legendary beach bar Chat'n'Chill where all you need to know about the place is in the name!
Explore Blue Lagoon Island
They say a visit to Blue Lagoon Island is to experience 'the real Bahamas'. Once a hideaway for pirate buccaneers, Blue Lagoon Island is now a real top all round family attraction in the Bahamas. A short and scenic boat ride from Nassau, here you will find exactly what springs to mind when one dreams of a tropical island. Glistening turquoise waters, white sandy beaches, coconut trees swaying in the Caribbean breeze, tropical birds and coral reefs. Spend a perfect day here relaxing on one of the many beaches, engaging in the huge variety of watersports on offer, take the opportunity to swim with the dolphins that call the island home or discover some of the walking paths that take you on an adventure through this unspoiled island packed with wildlife.
Sample some of the famous local products
The Bahamas is famous for rum and whether you like to drink it or perhaps prefer to eat it – be sure to try it during your stay.
Pay a visit to John Watling's Distillery, located on the historic Buena Vista Estate which dates back to 1879. Situated on 2 acres of lush tropical gardens and with stunning panoramic views over the harbour, the estate is home to artefacts dating over 300 years old which showcase the rich history and heritage of the Bahamas. Learn about the colourful history of the estate and all it has witnessed through the years before taking a tour of one of its more recent additions – the John Walting's Distillery. Learn how the rums are bottled by local hands on site and sample the three varieties of rum (pale, amber and Buena Vista), as well as Red Turtle Vodka which is filtered with pink sands from the island and a gin infused with botanicals also found on the island. If you like what you've sampled, be sure to head to the Red Turtle Tavern where they will whip up some signature cocktails for you!
If drinking rum isn't your thing then maybe try eating it? The Bahamas is famous for their rum cake so head to the nearby Bahamas Rum Cake Factory to try out this local delight. Boasting rum cakes with added flavours such as chocolate, pineapple, coconut, key lime and pina colada, there's plenty to get your taste buds going!
Delight at the Pink Sand Beaches of Harbour Island
Harbour Island is a picturesque island, small in size at just 3.5 miles long but big on beautiful beaches, quaint resorts, pastel painted cottages and restaurants offering up some of the finest cuisine in the Bahamas! If you are staying on the island you'll find stunning luxurious resorts here with private beaches from which to take a swim in the warm island waters. If staying elsewhere in the Bahamas, you can get a ferry from Nassau over to Harbour Island for a daytrip.
The island is perhaps most famous for its pink sand beaches which stretch out endlessly in front of you. On the beaches there are options to charter private boats for snorkelling or fishing expeditions.
Discover Lucayan National Park
Take a break from the blue waters and head for the lush green forests of Lucayan National Park. This 40 acre jungle is a wild landscape of mangrove swamps and pine forest with boardwalks weaving throughout to allow you to explore as much as possible and is a must-see for any avid birdwatchers or wildlife seekers.
The most fascinating feature however that you will find here is the underwater cave system, thought to be some of the longest and largest of their kind in the world. Although you are not allowed swim in the caves you can get right up to them and peak in to catch a glimpse of the bats and other jungle creatures that call the caves home.
Browse some of the Bahamas' unique shopping spots
The Port Lucaya Marketplace on Grand Bahama Island is a shoppers paradise but its also so much more than that! This 9 ½ acre waterfront, open air location is home to over 40 speciality stores and boutiques but also fantastic dining options with authentic Bahamian Island treats, Straw Markets, a spa, game room, beauty parlour, chocolate factory and ice cream parlours all just steps from beautiful white sandy beaches where water sport operators offer a variety of great activities! The Market Square located in the centre is a hub of activity where people gather to dance to Junkanoo and listen to live Bahamian music into the night.
Back on the island of Nassau, a trip to the Nassau Straw Market is another one for your list! Located in the heart of Bay Street, which is Nassau's main shopping street, here you will find an array of handmade Bahamian crafts, gifts, souvenirs, and items such as hand-woven straw hats, bags, mats, dolls, conch shell jewellery, and wood carvings. Grab yourself a tropical drink made of fresh fruit from the market to sip on as you stroll around this colourful marketplace and make sure you've brushed up on your haggling skills!
Indulge in the delicious Caribbean food on offer at Arawak Cay
Located on Nassau island, Arawak Cay (or The Fish Fry as its known locally) is a cluster of barbeque joints cooking up authentic, legendary Bahamian Fish Fry and other local favourites. The strip boasts around 20 restaurants and bars so there are plenty of spots to chose from. Be sure to try conch – whether it be conch fritters, conch chowder, conch salad, scorched (spiced with lime, onions and pepper) conch or cracked (deep fried in batter) conch dinner, there's no getting away from this delicious local delicacy!
Bahamas Holidays
Is a holiday to The Bahamas on your list? Check out our great special offers on holidays to the Bahamas and other Caribbean islands or give us a call today and speak to one of our expert travel advisors to start planning your dream trip!