If you are planning on travelling to the US, we recommend you choose a destination that is rich in music history, and still known for its music scene today. Our travel expert Fiona loves visiting destinations that are famous for sweet sounds. Here is her list of the top 10 US cities for music lovers.
Austin, Texas
Austin, Texas, is known as the "Live Music Capital of the World". From the moment you arrive you'll see why this city has earned that nickname as even the airport is regularly home to several live music gigs in its shops and restaurants. This amazing city is home to a wide array of bars and restaurants that love to showcase live music. From the gritty backdrop of the venues found in the Warehouse District, to the relaxed, laid back vibe on Rainey Street to the nightclub district of Red River and the craft cocktails and rustic beer gardens of Sixth Street. Sit back, eat the best BBQ you have ever tasted, and enjoy this city's music in one of its many cool venues.
Austin is also home to some of the most famous music festivals in the USA. Austin City Limits was a live music tv show that is credited with putting Austin on the music scene map in the 70s and from it came the famous Austin City Limits Festival, the city's second largest musical festival second only to the iconic South by Southwest Festival.
New Orleans, Louisiana
When one thinks of Jazz and Blues, they think of New Orleans. In fact, this city is the birthplace of Jazz, which was created here in the early 20th century. As a result, music is an integral part of this city's culture. From street musicians to funeral bands (yes, you heard us right!), you won't be able to walk around without touching something of historical significance. Head over to Bourbon Street for some exciting performances by up-and-coming artists and a buzzing nightlife scene.
Away from the bar and restaurant scene, pay a visit to the New Orleans Jazz Museum where you can learn more about the music that defines this city and also take some time to check out The Bywater area where local artists and musicians hang out and you can find decorative street murals and cool cafes.
New York City, New York
From impromptu gigs in Central Park, to jazz brunches, to hip-hop in the Bronx, and even the lights of Old Broadway – there is a music scene in New York City for just about anyone. For hip-hop lovers a music tour of Harlem and the Bronx is a must where you can see where your favourite music icons grew up, walk the streets from your favourite music videos and pay a visit to the iconic Apollo Theater where the likes of Aretha Franklin, Diana Ross, The Jackson 5 have all performed.
For many, no trip to New York would be complete without taking in a Broadway musical. One of the most exciting areas of Manhattan, take in the bright lights of one of New York's most famous streets before enjoying the experience of a lifetime seeing popular shows such as Hamilton, Chicago, Wicked, The Phantom of the Opera, The Lion King…the list is endless! Be sure to visit musical hotspots such as Carnegie Hall, Madison Square Garden and Radio City Music Hall during your holiday
Nashville, Tennessee
Nashville is home to country and western music, and institutions such as the Grand Ole Opry. Acts like Johnny Cash and Dolly Parton all got their starts in the music scene here, and that's just the start of a very long list. This city is a must visit for any music lovers. Home to the famous honky tonk venues that can still be found in the Broadway district today, in Nashville you can go to a gig at the Grand Ole Opry, or stumble across a more intimate singer/songwriter session and everything in between.
Nashville also embraces its place in music history. The Country Music Hall of Fame, Ryman Auditorium and Music Row are all well worth a visit. My colleague Claire visited these all on a recent trip to Nashville.
Memphis, Tennessee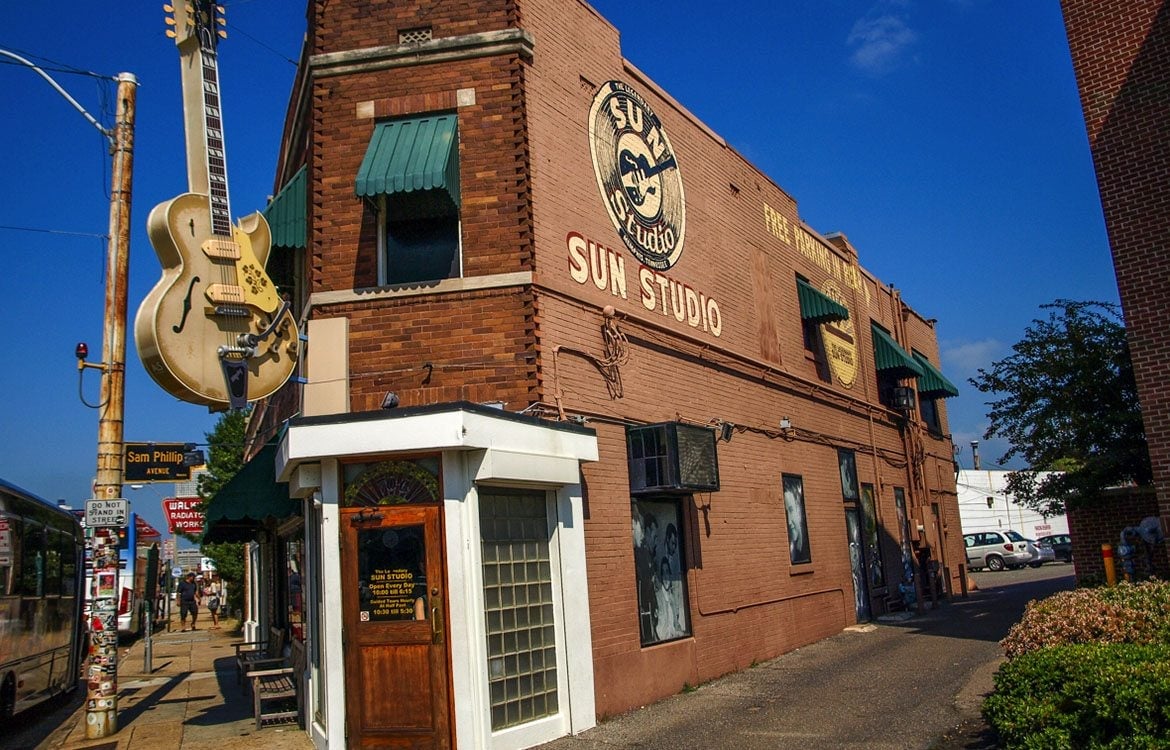 Memphis is the birthplace of Rock & Roll. The music scene of Memphis has coined musicians such as Elvis Presley, B.B King and Justin Timberlake. If you are looking or some of the best live music venues in America, head down to Beale Street. This is the city's most iconic street, packed with performances encompassing various musical genres.
Of course no trip to Memphis would be complete without paying a visit to Graceland, former home of the King of Rock & Roll, Elvis Presley where you can enjoy a self-guided tour of the sprawling estate and check out the special exhibitions that are always on there.
Memphis is also home to Sun Studios where everyone from Elvis to Johnny Cash to B.B. King to Tom Petty have all recorded. A tour of the studios is a great way to spend a few hours in this great city. Lovers of soul music are also in for a treat in Memphis! Pay a visit to Soulsville, where you will find the Stax Museum of American Soul Music which houses over 2,000 artefacts from the musical contributions of Aretha Franklin, Al Green, Otis Reading and many more!
Chicago, Illinois
Chicago is an epicenter for Jazz and Blues in America, hence the nickname "Chicago Blues". The Chicago Jazz Fest, held in late summer is a huge event for the city and draws thousands of visitors every year. The Green Mill venue is one of Chicago's most famous venues to enjoy jazz. A favourite spot of Al Capone's during the Prohibition, it now attracts popular jazz and blues acts who perform there regularly.
Keep your eyes open in Chicago for the small little venues that are the real gems of the city. While away a couple of hours browsing the stunning vinyl collections in Reckless Records. Stop into The Hideout, known as 'Chicago's Most Loved Small Venue' a one of a kind venue that holds all kinds of concerts. Visit Schubas, another loved small venue that has live music nightly and boasts some of the best acoustics in the city. You can even pop back the following morning for a live acoustic brunch!
Los Angeles, California
LA is known as the town of Hollywood glitz and glamour but it's also home to a thriving music scene. Pay a visit to the Grammy Museum, a great interactive museum dedicated to winners of these prestigious awards.
Stroll down the legendary Hollywood Walk of Fame where you will find many stars dedicated to music legends. There's even a special section just outside the Guitar Centre on Sunset Boulevard that's dedicated to rock stars known as the RockWalk. Be sure to pop into the Guitar Centre itself, it's well worth a visit!
Make your way to the famous Sunset Strip were rock legends were made in the many live music venues that litter the strip. Whisky a Go Go, The Roxy, Viper Room and The Troubadour are just some of the most famous venues on the strip and have been the popular hangouts for many LA music stars.
Be sure to catch a glimpse of Capitol Records while in LA. The iconic round building is home to the studios were everyone from Frank Sinatra and Paul McCartney to Green Day and the Goo Goo Dolls have recorded their albums. Artists famously hold their recording sessions on the roof of the building! Although you can't tour the studio, it's certainly a great spot for that perfect Instagram shot. You can then loose yourself among the shelves in Amobea Music, one of the largest independent record stores in the world where you'll certainly come across many classics that were recorded in Capitol Records!
Seattle, Washington
Seattle is the hometown of many famous musicians including Jimi Hendrix, Kurt Cobain and Macklemore. The city gained recognition in the music scene in the early 1990's when it was infiltrated by "grunge music and bands such as Pearl Jam and Nirvana put this city on the world stage for its major role in launching Indie and Alternative music acts. To this day, it is a haven for concert goers and lovers of live acts. Some great live music venues that can be found in Seattle include the Showbox, Café Racer and Columbia City Theater.
Be sure to check out the Museum of Pop Culture for an informative trip down memory lane. Exhibits include 'Nirvana, taking punk to the masses' and 'Pearl jam, home and away' as well as a guitar gallery and an interactive sound lab. A trip to the Experience Music Project (EMP) Museum is highly recommended where you'll find exhibits dedicated to Seattle's biggest music stars including Nirvana and Jimi Hendrix.
Detroit, Michigan
Visitors to Detroit need to brush up on their knowledge of Motown sound, because this city gave birth to it. The explosion of the auto industry in the early 1900s in Detroit attracted mass migration of people from the Deep South who brought their Mississippi musical influences with them. Over the following decades gospel, soul rhythm and blues continued to grow and influences mixed to create Motown Records, the label that brought us the music of artists such as Stevie Wonder, the Temptations and the Supremes. Be sure to visit the Motown Museum, known as Hitsville, USA for a complete history lesson on this interesting time in music history.
Detroit is also well-known as the hometown of rap superstar, Eminem and is the setting for the movie '8 Mile'. The famous rap battle scenes seen in the movie were inspired by the freestyle contests that took place in Detroit's Hip Hop Shop.
Looking to have your own musical adventure in America? Contact us today to discuss your dream holiday! To be the first to hear about our latest holiday deals sign up to our newsletter here