There is certainly no shortage of incredible music festivals to choose from in the USA. Rock n' roll, pop, country, hip hop, folk or electronic – you name it, there is a festival for it. Every year, people come from all over the world to see the biggest names in the music industry perform in the USA. Here are our travel expert Angel's top 10 music festivals in the USA 2023 – where will you go?
1- Burning Man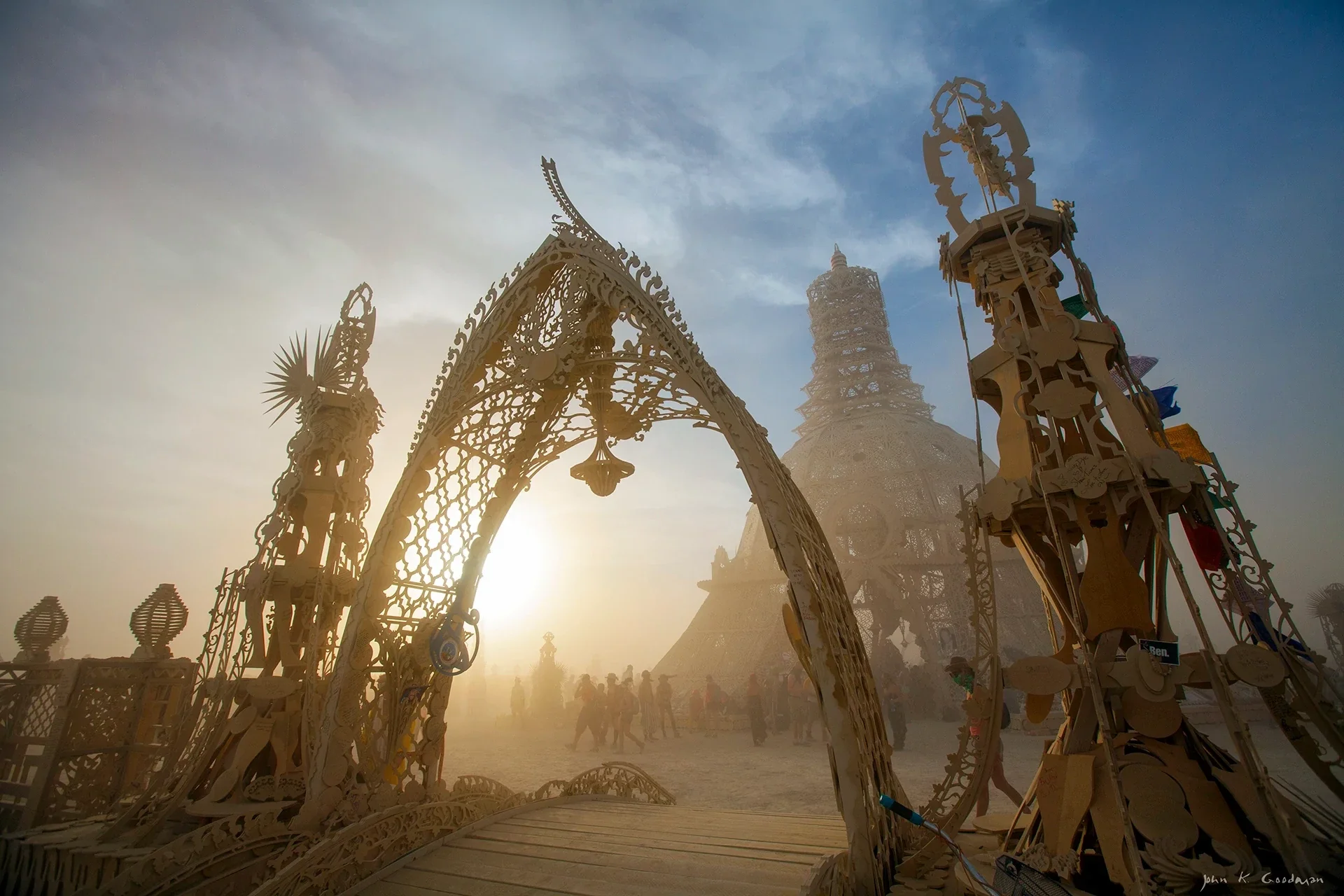 No festival list in the US would ever be complete without including the Burning Man music festival. This festival takes place in a desert at Black Rock City, Nevada and is a huge celebration of life, as you burn the past and get ready for new transformations. This festival has a famous "leave no trace" policy and incredible music and art installations. A must for the bucket list! Burning Man 2023 is expected to start in the last week of August and usually lasts eight days.
2- Austin City Limits Music Festival
This music festival is set in the electrifying Austin, Texas. The ACL Festival features a diverse lineup of acts every year with 8 stages and more than 140 bands. Previous headliners have included Guns N' Roses, Tame Impala, Mumford & Sons, Arctic Monkeys and Metallica, all rocking out under the glorious Texan sun. Head to Texas in early October to experience it for yourself.
3- Coachella Valley Music Festival
In April, the world-renowned Coachella Valley Music festival will kick off once again at the Empire Polo Club in Indio, California. This music and arts festival, which started in 1999, has now evolved into a massive annual event where people from all over the world travel to the US for. Throughout the festival, there are various musical acts, camping, and loads of partying. If you are into pop culture and want a taste of modern America, then this is one for you – taking place in April 2023.
4- Stagecoach
Country folk rejoice! Stagecoach is California's country music festival of the year. 2023's headliners include Luke Brian, Cane Brown and Chris Stapleton. Attractions include a honkytonk dance hall, a ferris wheel and a beer barn. This is a country music lover's dream festival! Taking place from 28th – 30th April 2023 in Indio, California.
5- Summerfest
Taking place during three weekends in June/July 2023, Summerfest claims to be the World's Largest Festival. Every year, around 800,000 people gather in Milwaukee, Wisconsin, to vibe to artists in 12 stages composed of multiple genres, like Justin Bieber, Rod Stewart, Wiz Khalifa and Backstreet Boys. The festival has over 50 years, with the first edition happening in 1968!
6- Ultra
Ultra is one of the world's most famous electronic music festivals. Some of the best DJs and producers play in five stages in Miami, from March 24th to 26th. Expect to see massive crowds partying to EDM, House and Techno music. Confirmed artists for 2023 include Swedish House Mafia, Carl Corx, Armin Van Buuren and Oliver Heldens.
7- Lollapalooza
The famous Lollapalooza festival is now a successful event that happens around the world, but the original one still takes place in Chicago, Illinois. There you can experience eight different stages, including a lineup of over 170 bands. Past artists that have graced the Lolla stage include Muse, Lorde and Cage the Elephant. You can't miss this one – it takes place from August 3rd to 6th, 2023.
8- New Orleans Jazz & Heritage Festival
This is definitely one of the top 10 festivals in the USA 2023 and something really different. A festival that has a real community feel to it, great music and fantastic southern food to go with, you're guaranteed a real Deep South Experience. Headliners in previous years included The Who, Stevie Nicks, Foo Fighters and Lenny Kravitz. The festival takes place from April 28th – May 7th 2023.
9- Bonnaroo Music and Arts Festival
Originally focused on jam bands and folk rock, this festival has expanded to include an impressive array of genres and was once praised by Rolling Stone magazine as playing host to one of the "50 Moments That Changed Rock & Roll". You are in for a treat with this one – takes place in Manchester, Tennessee from 15th – 18th June 2023.
10- Essence Festival
Essence is a festival located in New Orleans, Louisiana. Inspired by the magazine for African American women, this festival is aimed to celebrate women and culture. Famous past headliners include Janet Jackson, Mary J Blige, Erykah Badu, Snoop Dogg and The Roots. Essence Festival will take place from June 29th – July 3rd 2023.
BONUS: Underwater Music Festival
Looking for something different? This annual event is based in Florida and involves music being broadcasted and passed through pipes to the underwater. Attendees usually have mermaid-like costumes and put on a show to entertain the audience. The audience is made up of hundreds of avid divers and snorkelers who come together to conserve and protect the Looe Key Reef, the only living coral barrier reef in North America. They have underwater diver musicians and heaps more underwater entertainment! What's not to like? Head for the Florida Keys in July to see it for yourself!
Thinking about attending one of the top 10 music festivals in the USA 2023? Contact us today to find out more.