Kansas & Oklahoma are known as the 'Heartland States of America' as they are two areas where you will truly find the heart and soul of America. Small town charm, working ranches and old style motels and diners mix easily with cosmopolitan urban cities with vibrant entertainment and contemporary culture. Here our travel expert Claire who has visited both places gives her tips on some of the best things to do in Kansas & Oklahoma.
Oklahoma
The Oklahoma National Stockyards
To get a real feel for the authentic heart and soul of America pay a visit to the Oklahoma National Stockyards. Founded in 1910, the Stockyards has always been THE place in Oklahoma for farmers, ranchers and real cowboys to come for apparel, equipment, supplies, and a good meal. Every Monday, visitors have the opportunity to not only visit Stockyards City but to see a live cattle auction.
Store owners in Stockyard City have worked hard to maintain the history of the venue building wooden storefronts and gaslights and only offering authentic boots, belts, buckles, hats and accessories. As they say here you will 'leave knowing what a real steak tastes like, and that real boots don't come from Bloomingdales'. A visit here is the perfect way to start off a trip to Oklahoma and get yourself right in that American spirit!
Spend an evening in Bricktown
For a totally different side of Oklahoma, visit Bricktown, a former warehouse district that has been transformed into Oklahoma City's entertainment area where you'll find a great selection of bars and restaurants. Water taxi's travel up and down the canal carrying visitors between the shops, restaurants and bars. While there you can also catch a baseball game in Chickasaw Bricktown Ballpark, home of the Oklahoma City Dodgers.
Oklahoma Route 66 Museum
Route 66, America's Mother Road passes through Oklahoma as it winds its way across America and in Clinton you will find the Route 66 museum which is dedicated to the legends and stories behind the iconic road. Explore the story of Route 66 from its inception right through to the bucket list roadtrip it has become today against a backdrop of the big band music of the 50s, interactive exhibits and a fantastic 50s style diner so you can get the real feel of a Route 66 roadtrip without ever having to do it!

Kansas
Shop til you drop at Country Club Plaza
Country Club Plaza is a stunning upmarket shopping and residential neighbourhood with dozens of fantastic eateries including Gram & Dun, Jack Stack Barbecue, Cupcake A La Mode, Topsy's Popcorn and lots more for you to fill up on after spending the day in a shoppers paradise! You'll find a huge amount of stores to browse, from high street favourites to high end designer stores.
Visit the Power & Light District
Located in the buzzing downtown area of Kansas City, the Power & Light District is the spot to go in Kansas where there is always something fun going on! A nine block neighbourhood home to fantastic shops, restaurants, entertainment venues and nightlife. You'll also find the Sprint Center here, an arena that draws huge crowds to the area to catch a concert or basketball game.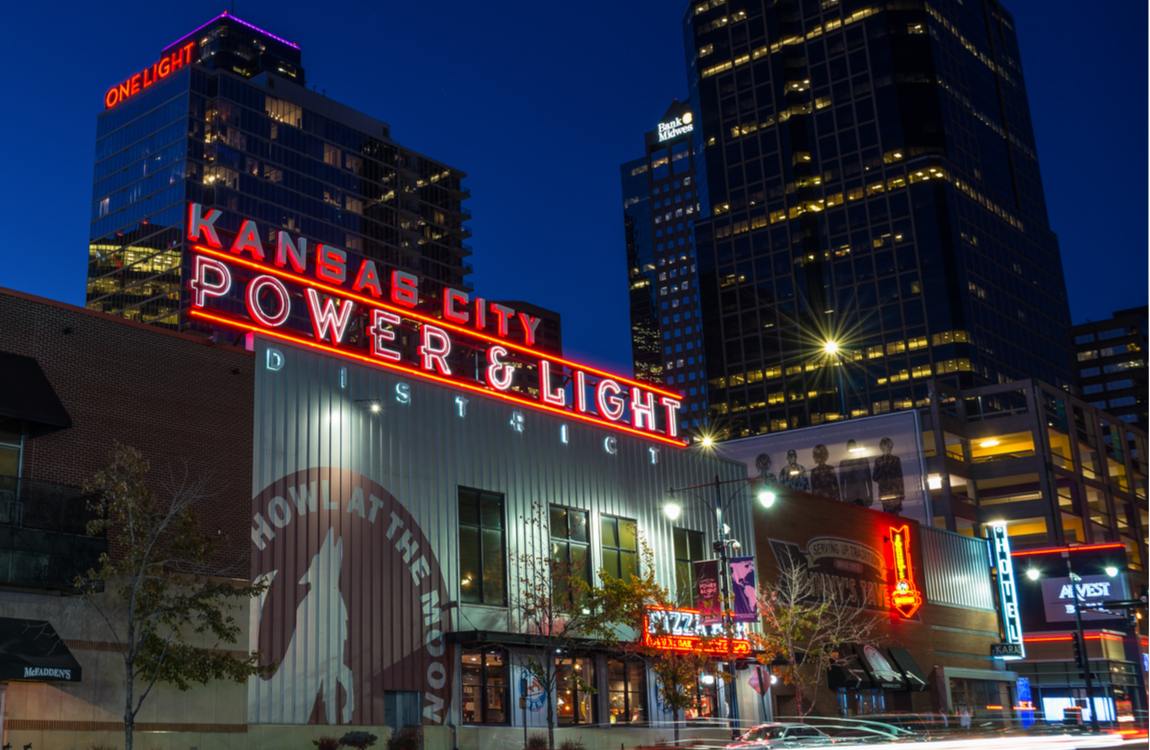 Spend a day at City Market
City Market (also known as River Market) started off in 1857 as a meeting point for horse trading, political rallies and circuses. Today it is the biggest farmers market in Kansas City boasting almost 600,000 visitors a year! With over 140 stalls to browse you'll find fresh food, delicious baked goods, local gifts and artefacts from around the world. The City Market also has a lively calendar of events from concerts and food celebrations to kids activities and family days.
National World War I Museum & Memorial
A must-see for any history buffs, the National World War I Museum and Memorial, built in Kansas in 1926 was one of the first memorials built to honour those who served their country during the war. Funds to build the museum were jointly raised by private investors and the citizens of Kansas City. Today the museum collects and preserves thousands of historical materials relating to the Great War and provides fascinating exhibitions and educational programmes for visitors to experience.
We hope you enjoyed our highlights of Oklahoma & Kansas blog. Fancy a your own Oklahoma & Kansas holiday> Contact us today to speak to one of our travel experts!