The Dominican Republic offers some of the best all-inclusive resorts in the Caribbean. With luxurious resorts, white sandy beaches, personalised holiday packages, and an endless array of activities and entertainment, it is paradise on earth. In this blog, our travel expert Shannon has created a list of the best all-inclusive resorts in the Dominican Republic.
Best all-inclusive resorts in Punta Cana
Punta Cana is situated at the centre of the east coast region of the Dominican Republic and is a wonderful beach holiday destination. Punta Cana offers unspoilt landscape with white sandy beaches and crystal-clear waters.
The Playa Bavaro, Secrets Royal Beach Punta Cana is a 5* all-inclusive resort that caters to everyone's desires. It is an elegant, exclusive resort, where romance and relaxation are of paramount importance. Guests can spend their days swimming in the crystal clear tranquil waters or relaxing under the shade of coconut trees. There are also adventurous activities including horseback riding, scuba diving and an aerial zip line tour. The personalised service at this magnificent resort is what makes it one of a kind.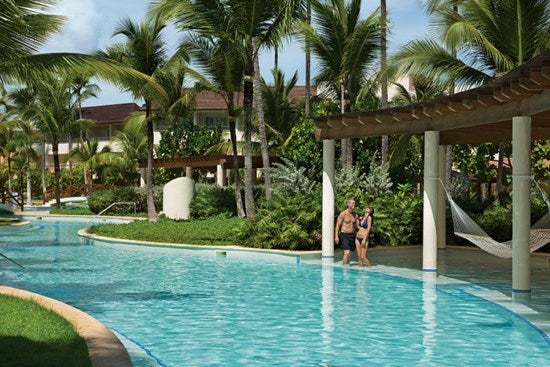 Secrets Cap Cana Resort & Spa is located in Punta Cana (Cap Cana). It is one of the top adults only all-inclusive resorts in the Dominican Republic and is recommended by our experts as a romantic and exclusive honeymoon destination. Secrets Cap Cana Resort & Spa is convenient to Juanillo Beach, Punta Espada Golf Course, Cap Cana Puerto Marina and Hoyo Azul.
Best all-inclusive resort in La Romana
La Romana is a city on the Dominican Republic's Caribbean coast and a gateway to nearby resort areas. Nestled in the middle of beautiful beaches and a tropical jungle, Dreams La Romana Resort and Spa on the southeast coast is an idyllic resort. This 4* star resort offers amazing all-inclusive packages and is perfect for couples.
If you feel like leaving your lap of luxury to do some exploring during your all-inclusive holiday to the Dominican Republic, you're well placed to reach many of the nearby attractions. Visit Isla Saona by boat and see the dolphins, go snorkelling or diving around beautiful coral reefs or go into the city of Romana itself for a fun day out . The city is famous for its art galleries and the luxurious and beautiful Casa de Campo Marina, inspired by the 16th century villages that sat on the edge of the Mediterranean Sea
These are our best all-inclusive resorts in the Dominican Republic! No matter where you choose to go, you will experience the holiday of a lifetime. Contact us today and speak with one of travel experts!