default
Las Vegas to Grand Canyon
A Las Vegas to Grand Canyon day trip is a very popular excursion for people on holiday in Las Vegas. The Grand Canyon is one of America's greatest natural wonders and extends to over 227 miles long. It is divided into the North Rim and the South Rim by the Colorado River which runs through its entire length.
How Far is it From Las Vegas to the Grand Canyon?
It's a two and a half hour drive each way from Las Vegas to the Grand Canyon Skywalk on the West Rim. True, that's a long drive but it is a well-travelled route along the US-93 South; the roads are excellent and there are plenty of places to stop along the way.
The Grand Canyon Skywalk
The Grand Canyon Skywalk is an incredible feat of engineering. As you walk out 70 meters along the glass bottomed walkway, looking down at the Colorado River, some 4000 feet below you will get a true sense of the scale and beauty of the Grand Canyon.
Grand Canyon Helicopter Tour
One of the best ways to see the Grand Canyon is by helicopter. A helicopter tour of the Grand Canyon takes about four and a half hours from the time you leave your hotel to the time you return. Options include a helicopter tour with a visit to the Grand Canyon Skywalk or a visit to the Hualapai Indian Territory. It's a great way to see the Grand Canyon from Las Vegas in style.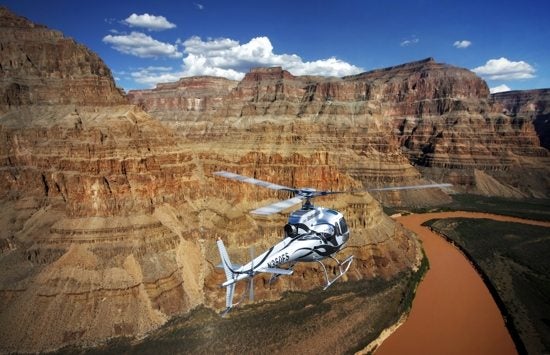 Las Vegas Travel Experts
If you are planning Holiday to Las Vegas, speak to an American Holidays travel expert, we have first-hand experience of the best attractions, day trips and things to do in Las Vegas. We have lots of great Las Vegas holiday deals and will help find the perfect holiday package for you. Call us now.